London officers charged with assaulting terror suspect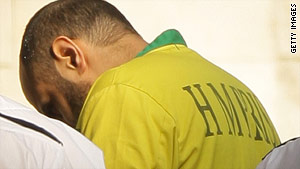 Terror suspect Babar Ahmad is escorted into the High Court by prison officers on March 18, 2009 in London.
STORY HIGHLIGHTS
Prosecutors have charged four London police officers with assault
It relates to the 2003 arrest of terrorism suspect Babar Ahmad
He suffered a number of injuries during the arrest
Ahmad is wanted by the United States
London, England (CNN) -- Four British police officers have been charged with assault in connection with the arrest of a British terrorism suspect seven years ago, the Crown Prosecution Service (CPS) announced Thursday.
Babar Ahmad was arrested at his home in Tooting, south London, in December 2003 on British terrorism charges. During the course of the arrest, according to the CPS, Ahmad "suffered a number of injuries, including heavy bruising to the head, neck, wrists, and feet."
The CPS said it is bringing charges of causing actual bodily harm against four officers involved, named by London's Metropolitan Police Service as Police Constables Rod James-Bowen, Nigel Cowley and Mark Jones, and Detective Constable John Donohue.
All four must appear at the City of Westminster Magistrates' Court on September 22.
The announcement marks a reversal of an earlier CPS decision not to bring charges against the officers and comes a year after Ahmad was awarded £60,000 ($93,500) compensation from the police in a civil case brought at Britain's High Court.
This case has serious implications for policing in London.
--Metropolitan Police Authority
'I am pleased that the CPS has decided that a jury will hear the evidence in this case and it will now be for the jury to determine whether any police officer should be punished for the assault upon me in December 2003," Ahmad said in a statement through his solicitor, Fiona Murphy.
The Metropolitan Police said it is now considering whether there should be any restriction or suspension of the officers.
Ahmad was released without charge after his initial arrest. A year later, however, in 2004, he was arrested again on a U.S. extradition request and is currently in Long Lartin prison in central England fighting transfer to the United States.
He is wanted by the United States for allegedly running a website that raised funds for Islamist militant groups in Chechnya and Afghanistan.
A European Court has yet to rule on whether extraditing Ahmad would breach the European Convention on Human Rights.
Ahmad's case has prompted criticism of policing methods, particularly among Britain's Muslims, a fact acknowledged by the Metropolitan Police Authority, which oversees the work of London's main police force.
"This case has serious implications for policing in London," the MPA said in a statement. "The allegations have damaged public confidence in the way police officers carry out their duties and Londoners have the right to expect that if found to have acted improperly, officers will be held to account."
FOLLOW THIS TOPIC