STORY HIGHLIGHTS
Relics claim prompts archaeological arguments in Bulgaria
Reliquary containing bone fragments found on monastic site on Black Sea island
Archaeologist who led excavation says relics could be John the Baptist
Experts say it's feasible monastic community believed they had genuine relics
(CNN) -- In a region already rich with archaeological artifacts, the excavation of a small alabaster box containing a few pieces of bone amid the ruins of a medieval monastery might easily have passed unnoticed.
But when Bulgarian archaeologists declared they had found relics of John the Baptist, one of the most significant early Christian saints, their discovery became the subject of rather more interest -- prompting angry exchanges in the local media and even calls for a government minister's resignation.
The claim is based on a reliquary -- a container for holy relics -- found on July 28 under the altar of a fifth century basilica on Sveti Ivan, a Black Sea island off Sozopol on Bulgaria's southern coast. Inside, archaeologists found eight pieces of bone, including fragments of skull and face bone and a tooth.
A later monastery on the island was dedicated to John the Baptist; indirect evidence, according to excavation leader Kazimir Popkonstantinov, that the relics under the altar were those of the church's saint.

Video: John the Baptist relics found?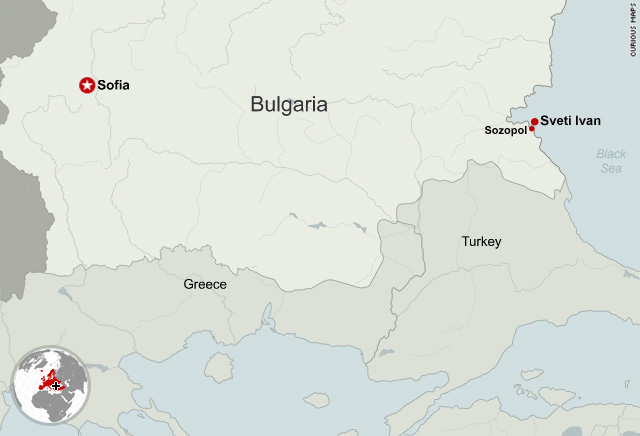 Map: Relics found on Sveti Ivan
But Popkonstantinov said the "key" clue to the relics' origins was a tiny sandstone box found alongside the reliquary with a Greek inscription: "God, save your servant Thomas. To St John. June 24."
Popkonstantinov said the date, celebrated by Christians as John's nativity, indicated a direct link between the saint and the site. The rest of the inscription suggested the bearer of the box used it as an amulet for protection, perhaps carrying the relics in a simple container to avoid attracting attention, he speculated.
"We knew we could find a reliquary there and our expectations came true," Popkonstantinov said in e-mailed comments. "It seems rather logical to suggest the founders of the monastery did their best to bring relics of its patron saint."
Several sites already house relics purported to be John, such as the Grand Mosque in Damascus, Syria, and Amiens Cathedral in France, which both claim to have his head, and the Topkapi Museum in Istanbul, Turkey, which has a right arm on display.
Paul Middleton, a senior lecturer in Biblical Studies at the University of Chester, said there was good evidence to suggest John was a historical figure, with all four Gospels and the Jewish historian Josephus agreeing he was put to death by beheading on the orders of the local ruler, Herod Antipas.
Some other notable relics purported to be John the Baptist include:

John the San Silvestro in Capite, Italy: The Rome church claims to have John's head; parts of a reliquary on display date from the 13th century
Notre-Dame d'Amiens, France: John's head is said to have been brought back from Constantinople in 1206 after Crusaders sacked the city
Umayyad Mosque, Syria: Damascus' great mosque is built over the site of a church dedicated to John, whose head is said to be contained in a shrine in the prayer hall
Residenz Museum, Germany: The Munich museum claims to have John's head; one of a number of relics collected by Bavaria's Duke Wilhelm V in the 16th century
Topkapi Museum, Istanbul: Chronicles suggest John's right arm was transferred from Antioch to Constantinople in 956 by Byzantine emperor Constantine VII
St. Macarius Monastery, Egypt: A crypt and relics said to be John's, mentioned in 11th century manuscripts, were discovered during restoration work in 1969
Cetinje Monastery, Montenegro: The Orthodox monastery, which dates from the 15th century, claims to have John's mummified right hand
Christians believe John, an ascetic preacher, heralded the coming of Christ and baptized Jesus in the River Jordan. "He is seen as the forerunner of Jesus; he prepares the way," said Middleton.
But the discovery on Sveti Ivan has been greeted with scepticism by some within Bulgaria's archaeological community.
Much of the criticism has been directed at government minister Bozhidar Dimitrov, also a notable historian and director of Bulgaria's National Museum of History, whose confident claims about the relics and the economic potential of Sozopol as a center of religious tourism provoked criticism from leading archaeologists.
In response, Dimitrov appeared to direct an expletive at his critics in an interview with the Dnevnik newspaper, prompting calls for his resignation from opposition politicians. In a subsequent interview with Bulgarian television, Dimitrov denied the expletive had been intended as an insult.
But doubts have not been confined to Fabrizio Bisconti of the Vatican Pontifical Commission of Sacred Archaeology said there were "thousands" of alleged relics of John the Baptist. He said the commission would "wait until a more thorough study has been conducted" before expressing an opinion.
Dimitrov said that the relics had been handed to the Orthodox Church and that it was for church leaders to decide if further tests should be carried out.
But he added: "Even if it were established that the bones are indeed from the first century, some other Doubting Thomas would say: 'And what is the guarantee that these are the bones of St. John the Baptist and not of some other person who lived in the first century?' "
Popkonstantinov, meanwhile, said further tests would be done on the reliquary and its contents to establish their age, whether the fragments belong to one or more bodies and whether they are male or female.
But he conceded his case for the relics mixed fact with hypothesis: "As far as I know there is no database with DNA profiles of the saints. Here, I believe, the science stops. Since we cannot prove the attribution of any of the relics with scientific methods, we have to be tolerant of those who want to believe that they are."
Andreas Andreopoulos, director of the Centre for Orthodox Studies at the University of Wales Lampeter, said the question of any relic's origins was more a matter of faith than historical methodology.
"The Orthodox Church has been a little cavalier about the historicity of certain relics in the sense that there was never a strong sense of saying, 'Let's make sure this relic is absolutely 150 percent what it's claimed to be,' " he said.
As far as I know there is no database with DNA profiles of the saints.
--Kazimir Popkonstantinov
But he said it was plausible that relics would have been placed under the altar on Sveti Ivan, since that was common practice in the eastern Christian tradition, in which holy remains are particularly revered.
Antony Eastmond, a Byzantine expert at the Courtauld Institute of Art in London, said there was evidence of a Christian "cult of relics" in the region from as early as the second century.
By the middle of the fourth century, relics were being collected by the imperial court in Constantinople, now Istanbul, and by the 8th century there was an "endless exchange of relics" across Europe, he said.
"They're spiritually important, but also politically important because if you have access to them and control of them it gives you power and authority," Eastmond said.
The sheer volume of relics made it impossible to make claims with any certainty about their origins; historians have collected references to 3,600 relics relating to 476 saints in Constantinople alone, he said.
But Eastmond said it was likely the Sveti Ivan bones had been acquired by the island's early monastic settlers in the genuine belief they were holy relics and that they may even have originated from an early grave in the Holy Land.
"Everything suggests they believed they had the relic of John the Baptist. Ultimately, in theological terms, that's what matters," he said. "It's where spirituality always rubs up against archaeology."
CNN's Hada Messia, Susannah Palk and Sam Krumov contributed to this report.
FOLLOW THIS TOPIC