Amazon hiker arrives home after 2-year, 4,000-mile trek
STORY HIGHLIGHTS
Stafford says the first thing he will do when he gets home is grab a pint of beer
He set out to become the first person to walk all of the river's roughly 4,000 miles
He's hoping to raise international awareness about deforestation
(CNN) -- British explorer Ed Stafford arrives home in England on Wednesday, two days after he completed a two-year, 4,000-mile trek along the Amazon River.
The hike, which he started at Camana, Peru, on April 2, 2008, ended Monday at Maruda Beach, Brazil.
Stafford said the first thing he'll do after touching down in England is grab a pint of beer. His mother told CNN she will fix his favorite meal, shepherd's pie, when he gets back.
The 859-day journey took Stafford through three countries.
"I'm more tired and more elated than I've ever been in my life," Stafford said in a release. "We've lived through some very serious situations and there have been times when we genuinely feared for our lives, but we never ever thought of giving up. The fact that everyone told us it was impossible spurred us on."

Video: Amazon trek accomplished

Video: Explorer's mom talks Amazon trek

Video: Walking the Amazon for charity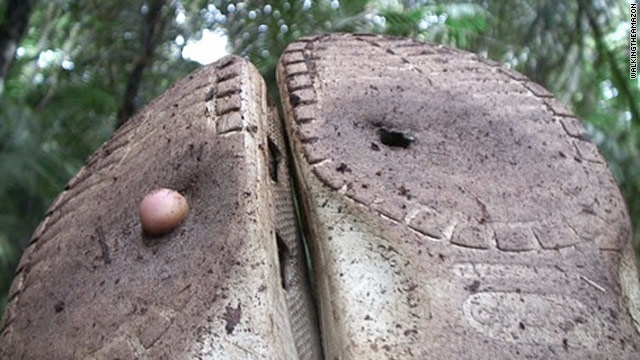 Gallery:
Despite collapsing from exhaustion on a roadside Sunday morning, Stafford had been confident he would finish in time Monday to catch a scheduled flight home.
Stafford set out from the Amazon's River source to raise international attention about rain-forest destruction and to help raise funds to combat it.
Stafford's mother, Barbara, said Monday she did not spend "an awful lot" of time worrying about her son.
"I only got hear about the bad stuff that had happened only after it had happened," she told CNN. "I can't say there was ever a second when I thought he wouldn't make it unless something dire happened."
Having never visited the Amazon before starting his expedition, Stafford says his quest to save the region won't end with his hike.
"I'm committed now to this place for the rest of my life," he wrote on CNN.com this month, "and I intend to take 'Walking the Amazon' around the world and keep alive the stories of the people we've met along the way, the lives in the Amazon and the tale of the jungle."
Though he says that deforestation means the Amazon "is changing faster than many of us can comprehend," Stafford has also found reasons to be hopeful about its survival while hiking.
"Although [deforestation] is still going on in the moment," he told CNN, "there's a generation coming through Brazil that are very aware of environmental issues and really do care about the Amazon."
FOLLOW THIS TOPIC


Part of complete coverage on

Ed Stafford has been walking the length of the Amazon River since April 2008.

Ed Stafford and and Gadiel "Cho" Sanchez Rivera finally enter civilization.

British adventurer Ed Stafford shares the medical issues he encounters while walking the Amazon.

British explorer Ed Stafford shares video from his journey of walking the Amazon.

The end is near for British explorer Ed Stafford on his two-year journey across the entire Amazon River.

British explorer Ed Stafford discusses the charities he's raising money for as he walks the length of the Amazon River.

British explorer Ed Stafford discusses the technology he uses to stay in touch and what he does for fun in the Amazon.


Most popular stories right now