Hamburg shuts down mosque known as meeting place for 9/11 hijackers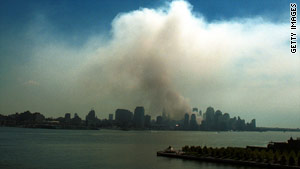 The mosque was reportedly frequented by the suicide hijackers responsible for the September 11, 2001 attacks.
STORY HIGHLIGHTS
The Taiba mosque and cultural center were closed effective immediately
The mosque was formerly known as the Al-Quds mosque
Official: Hamburg won't be the "incubator" for jihadists
(CNN) -- The city of Hamburg, Germany, has shut down a mosque frequented by the suicide hijackers from the September 11, 2001, terror attacks, along with an adjacent cultural center, and banned the cultural organization behind it, officials said.
The Taiba organization's committee was notified of the ban early Monday, according to a statement from the Interior Senate of Hamburg. "At the same time, the group's premises and the homes of its leading members were searched and the organization's funds seized," the statement said.
In 2001, the Masjid Taiba mosque, formerly known as the Al-Quds mosque, became known as the meeting place of those behind the 9/11 attacks on New York and Washington.
"Recent events have again shown that instructional courses, sermons and seminars held by the organization and texts published on its website are not only aimed against constitutional regularity, but also seek to radicalize their listeners and readers," the town statement said.
In 2009, the statement said, a group of individuals left Germany "to support the armed conflict on the Afghanistan/Pakistan border after having previously attended Taiba events on a regular basis." One of them later appeared in a German-language video soliciting support for the so-called "Holy War," officials said.
"Hamburg must not serve as the incubator for Islamists willing to employ violence," said Christoph Ahlhaus, head of Hamburg's interior ministry, in the statement. "We have closed the Taiba Mosque today as it was here that young men have been converted into religious fanatics. Behind the scenes, an alleged cultural organization has shamelessly exploited the freedoms of our constitutional democracy to promote the cause of the 'Holy War.'
"We have today banned this association of radical extremists and in so doing, put an end to the anti-constitutional activities in the mosque," Ahlhaus said.
Over the years, the organization has promoted a "jihadist, aggressive and anti-democratic ideology and notion of religion, and continued to do so," Ahlhaus said in the statement. "We do not tolerate organizations that act aggressively and militantly against constitutional regularity and the concept of international understanding."
He noted that the closure was not aimed "against the majority of peace-loving and law-abiding Muslims in Hamburg."
CNN's Frederik Pleitgen contributed to this report.
FOLLOW THIS TOPIC