Russian president visits breakaway Abkhazia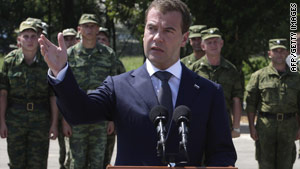 Medvedev made an unannounced visit to Abkhazia on Sunday.
STORY HIGHLIGHTS
Dmitry Medvedev arrived in Abkhazia Sunday
Russia and Georgia fought in 2008 over the separatist territory
It was Medvedev's first official visit there as president
(CNN) -- Russian President Dmitry Medvedev arrived Sunday in Abkhazia, one of the separatist territories over which Russia and Georgia warred two years ago, the state-run Interfax news agency reported.
The visit is Medvedev's first working visit to Abkhazia in his capacity as president and comes on the anniversary of the beginning of the 2008 war. As a part of the trip, the Russian President met with his Abkhazian counterpart Sergey Bagapsh.
"Two years ago certain big events happened in South Ossetia, which served as a starting point for a series of political processes, including recognition of South Ossetia and Abkhazia as independent subjects of international law," Medvedev said according to RIA-Novosti, another state-run news agency.
According to Medvedev, the decision to recognize the independence of Abkhazia and South Ossetia for Russia "was a painful experience, it was difficult, and time has proved that it was the right decision," according to the agency.
The government of the Republic of Georgia has repeatedly disputed the legality of Abkhazia's self-proclaimed independence.
The war between Russia and Georgia which began August 8, 2008, created a controversy in the international community. Both parties blamed one another, accusing the opponent of planned provocations leading to the military conflict.
CNN's Mila Sanina contributed to this report.
FOLLOW THIS TOPIC