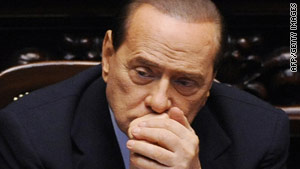 Silvio Berlusconi said he had no choice but to expel Gianfranco Fini because of his dissident stance.
STORY HIGHLIGHTS
An opposition vote of confidence in one of the government's junior ministers is defeated
The vote came on the heels of the defection of a key Berlusconi ally from the government
The prime minister now lacks a stable majority
Rome, Italy (CNN) -- Italian Prime Minister Silvio Berlusconi survived a critical vote in parliament Wednesday which could have brought down his government if it had succeeded.
The no confidence motion in one of Berlusconi's ministers was defeated 229 to 299, with 75 lawmakers abstaining.
If it had been successful, the vote would have been the most serious challenge to Berlusconi's grip on power since he took office in April 2008.
Lawmakers voted on whether they still have confidence in one of Berlusconi's junior ministers, Giacomo Caliendo.
The motion came on the heels of the defection of Gianfranco Fini, a co-founder of Berlusconi's party.
Fini formed a new faction in the Italian parliament, depriving Berlusconi's coalition of 33 deputies and a stable majority.
Fini's breakaway faction announced that his group and three other centrist parties would abstain in Wednesday's no-confidence vote.
But the 73-year-old prime minister still has to reckon with the fact that Fini's union with the other centrist parties -- totalling 85 members of parliament -- might turn into a third block in the legislature that could threaten his ability to govern.
Fini, 58, is a co-founder of Berlusconi's People of Freedom (PDL) party. He is also the speaker of the lower house.
The crisis began last Thursday when Berlusconi set in motion a process to expel Fini and three of his allies from the party. It was the culmination of months of feuding between the two over some of Berlusconi's bills and leadership.
Fini accuses Berlusconi of personalizing the party and not allowing for pluralism.
On Friday he formed a new group of 33 deputies in the lower house of parliament and on Monday a new one in the upper house, the Senate, of 10 senators.
Fini said that his new group will support Berlusconi as long as the prime minister's coalition respects 2008 election campaign promises for reform.
Berlusconi and Fini have been allies since Berlusconi's first political campaign in 1994.
The prime minister told reporters at a news conference that he had no choice but to expel Fini because of his dissident stance.
His office "considers the positions of the honorable Fini absolutely incompatible with the principles of the People of Freedom, with the commitment taken with the voters and with the political activity of the party," he said July 29.
He claimed he still has a governing majority in both houses of parliament.
Wednesday's no-confidence motion to remove Justice under-secretary Caliendo from his post was put forward by opposition parties.
Caliendo is under investigation for his alleged role in a secret society of politicians and businessmen, nicknamed P3, that, according to investigators, tried to influence, among other things, the Italian Constitutional court's decision on Berlusconi's Immunity Law.
Caliendo has denied wrongdoing.
FOLLOW THIS TOPIC