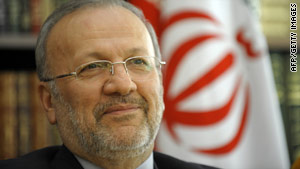 Iranian Foreign Minister Manouchehr Mottaki has announced Tehran's planned letter to the U.N. nuclear watchdog.
STORY HIGHLIGHTS
IAEA says it has received letter from Iran on nuclear issue
Iran is offering to restart talks on the Brazil-Turkey proposal
Foreign ministers from all three countries met Sunday in hopes of new talks
It is the first meeting since the three countries struck a deal on swapping nuclear fuel
Istanbul, Turkey (CNN) -- Iran submitted a letter to the International Atomic Energy Agency on Monday, proposing to restart limited talks on an exchange of nuclear fuel.
Foreign Minister Manouchehr Mottaki told reporters about Iran's planned letter to the U.N. nuclear watchdog Sunday after a lunchtime meeting with diplomats from Brazil and Turkey to discuss Tehran's nuclear program.
"And then we can immediately start negotiation for the details of the exchanging of the fuel," he said.
"IAEA Director General Yukiya Amano today received a letter from the government of Iran concerning the provision of nuclear fuel for the Tehran Research Reactor," IAEA spokeswoman Gill Tudor said in a statement released Monday. "The letter has been conveyed to the governments of France, Russia and the United States, as well as to the governments of Brazil and Turkey."
Iran's envoy to the International Atomic Energy Agency, Ali Asghar Soltanieh, told the official Islamic Republic News Agency that the letter indicated that Iran was ready to start talks.
"Through submitting an official letter, I expressed the Islamic Republic of Iran's readiness to engage in negotiations over fuel [provisions] for the Tehran nuclear reactor," Soltanieh said. "Our very clear message was that we are ready for negotiations and meeting over fuel for the Tehran reactor."
Sunday's hour-long talks were aimed at rebooting stalled negotiations over Iran's nuclear program. It was the first time officials from the three governments had met since May, when they signed an atomic fuel swap agreement that was criticized by Washington and other permanent members of the U.N. Security Council.
Under the proposal, Iran would send 1,200 kilograms (2,645 pounds) of low-enriched uranium to Turkey in exchange for 120 kilograms (265 pounds) of 20 percent-enriched uranium provided by Western governments.
Turkish Foreign Minister Ahmet Davutoglu said after the talks that he hadn't seen the letter Iran was planning to send.
"The important thing is, it is a positive response. The Iranian side said they will give a letter to start negotiations," he said.
Iran has rebuffed international demands that it halt its uranium enrichment program, insisting that it wants the nuclear fuel for peaceful uses. In low concentrations, enriched uranium can be used to fuel civilian power plants -- but in extremely high concentrations, it can be used to produce a nuclear bomb.
Iran announced in February that it wanted to produce enriched uranium at a 20 percent concentration for use in a medical research reactor. The United States has accused Iran of working toward nuclear weapons, while the atomic energy agency has called for increased safeguards at the Iranian enrichment plant at Natanz to ensure it is not concealing nuclear material.
In May, the leaders of Brazil, Turkey and Iran appeared to catch Western governments off-guard when they met after marathon negotiations to sign the "Tehran Declaration."
Despite the agreement, permanent members of the United Nations Security Council pushed forward with a fresh round of sanctions to punish Iran.
Brazil and Turkey, who hold temporary seats on the Security Council, broke with their traditional Western allies and voted against the sanctions.
FOLLOW THIS TOPIC