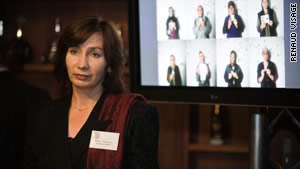 A year ago, Natalya Estemirova was found dead after being kidnapped outside her home in Grozny, Chechnya.
STORY HIGHLIGHTS
Report: Medvedev says the killer of a Russian human rights activist is known
The Russian president says the person who arranged Natalya Estemirova's death will soon be found
Estemirova's fellow activists mark the one-year anniversary of her death Thursday
Estemirova was kidnapped outside her home in Grozny, Chechnya, and later found dead
(CNN) -- The identity of the killer of human rights activist Natalya Estemirova is known, and the person who arranged her slaying will soon be found, Russian President Dmitry Medvedev said Thursday on the one-year anniversary of her death, according to state-run Russian media.
Estemirova, of the Russian human rights group Memorial, was kidnapped outside her home in Grozny, Chechnya, and she was later found dead in the neighboring Russian republic of Ingushetia. She had been shot in the head and chest.
A leading human rights activist in the North Caucasus, Estemirova had worked in Chechnya for more than 10 years and had openly criticized Chechnya's president, Ramzan Kadyrov, and his methods.
Her murder outraged human rights activists worldwide. Human Rights Watch, the Committee to Protect Journalists, the European Union and the United States were among those appealing to Russia to conduct a transparent investigation of the crime.
Although Russian authorities including Kadyrov pledged to investigate, the probe a year later has "not yielded tangible results," according to Human Rights Watch.
Memorial has suggested local authorities including Kadyrov were involved. In an interview Sunday, Kadyrov accused Memorial of defamation and said the organization's human rights activists are "enemies of the people, enemies of the law, enemy of the state," state-run Russian news agency RIA-Novosti reported.
Memorial hosted a gathering in central Moscow Thursday in Estemirova's honor. "It has been one year since Estemirova's murder, and we are gathering today to call for justice in this atrocious crime," Tanya Lokshina, a Human Rights Watch researcher who participated in the ceremony, told CNN before the gathering.
Estemirova was a history teacher with a deep love of her subject. But in 1991, when Chechnya was on the brink of war, she became a human-rights activist, applying a historian's meticulous research skills to investigating and reporting large-scale atrocities and human rights violations taking place in Chechnya's small villages and towns. She documented and publicized kidnappings, killings, torture and abductions.
She and her colleagues at Grozny-based Memorial brought more than 30 cases before the European Court of Human Rights. "The Strasbourg court gives the people of Chechnya hope that the crimes will be investigated ... that they will look in the eyes of those who humiliated them," said Estemirova in one of her interviews.
Most of the cases Estemirova worked on concentrated on the involvement of local Chechen authorities in killings, disappearances, abductions and torture happening in Chechnya, said CPJ Europe and Central Asia Program Coordinator Nina Ognianova.
"She was unique," said Ognianova. "She lived in Grozny and reported from Grozny, unlike most of the journalists who come and go. She played a unique role in connecting the outside world with the story of Chechnya, her home served as an improvised base for reporters, human rights activists working in Chechnya, she was their fixer, their translator; she was the main link to the story of Chechnya. Natalya was not only an important link through her own work but in her work to help others to report and conduct research."
With Estemirova's murder, Ognianova said, "This link has been severed. There is a great concern what will happen to the story of Chechnya, to the stories of all the citizens of Chechnya whose voice Natasha represented."
Lokshina said Estemirova "was by far one of the most trusted, genuine voices of the human rights community. She earned tremendous trust among the people of Chechnya by defending the core of human rights."
Activists are concerned the truth about Estemirova's death may never be discovered, she said. Investigators had implicated a man who allegedly had a personal grudge against her, but the man was killed this spring "and we are concerned that that's where the investigation will stop," Ognianova said.
"There are a lot of clues suggesting that Natalya's murder is directly connected to the work she was doing. She worked on very sensitive cases, all of them dealing with gross human rights violations in Chechnya," Ognianova said. In one case, Estemirova named specific police officers in connection with a kidnapping and murder, she said.
"Natasha was killed, as we believe, because of doing her job. She was silenced because she exposed atrocities in Chechnya involving the local authorities," Lokshina said. "We want the investigators to look into the possibility of official involvement of the authorities simply because of the circumstances of her murder."
At a minimum, Estemirova's fellow activists want investigators to publicize the results of the investigation and -- if true -- explain why her murder was not in retaliation to her investigations, because they believe clues suggest otherwise, Ognianova said.
Speaking at a news conference with German Chancellor Angela Merkel, Medvedev said Thursday, "investigations are currently underway of not only identifying the hit man who is already on a wanted list, but also the individual who ordered this terrible crime," referring to Estemirova's death, according to RIA-Novosti.
"We want to know the concrete steps of the investigation. We want to know what has been done," Lokshina said. She called Medvedev's statement somewhat meaningless, as he did not name Estemirova's killer.
"The investigation of Natasha's murder is reminiscent of what happened in the case of (Anna) Politkovskaya, a Russian journalist who was killed in 2006," she said. "At the beginning there was hope and trust that the investigation is moving in the right direction, but then suddenly there were obstacles in the way and the results became more difficult to trust."
Estemirova herself knew of the risks she was taking. "Human rights activists still face the problem of security," she said in an interview. "If you are a true human rights activist in Russia, you are constantly violating the unwritten laws that the Russian state creates."