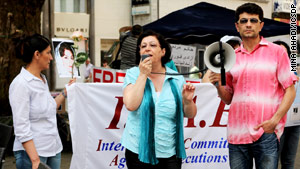 Mina Ahadi protests the stoning to death of women for committing adultery.
STORY HIGHLIGHTS
Mina Ahadi works to save the lives of Iranians sentenced to execution
Ahadi's husband was executed in 1980 for protesting the Islamic regime, she says
The Committee Against Stoning and the Death Penalty tries to pressure the Iranian government
Sakineh Mohammadie Ashtiani's stoning sentence has been halted -- for now
(CNN) -- Mina Ahadi was to be executed in Iran -- for political reasons, she says. But she escaped. Now she lives in Germany and works daily to save the lives of people awaiting what she says is unjust execution in her former home country.
Her group of about 20 protesters often sets up near one of Europe's big tourist draws, the grand cathedral in Cologne, Germany. Through a bullhorn, Ahadi appeals to the passing masses to support people condemned to death half a world away -- sentenced to die by stoning or hanging in Iran for offenses that would not nearly be criminal in a western democracy.
Ahadi is herself a perfect example. She and her husband were sentenced to death right after the Islamic Revolution. Their capital offense? "I protested against the Islamic regime," says Ahadi, a medical student at the time, "and against the head scarf law back then. And my husband, a physics student, was arrested and executed in 1980 in Iran. We were both active, and from the beginning we did not accept an Islamic regime in Iran."
Not much has changed in her stance since her departure from Iran three decades ago, when she fled to Germany after a suspenseful decade-long odyssey through Iran, Kurdish regions and Austria.
Ahadi is chairwoman of The Committee Against Stoning and the Death Penalty. Her group of protesters holds up placards bearing the faces and names of Iranian death-row inmates. On some days, their efforts are supported by similar groups protesting in other countries. Despite the group's admonitions in German and in Farsi, almost no one among the hordes of shoppers pouring through the open-air mall stops to listen to them or to look at the photos of the sad expressions of those facing a tragic end.
The protests may be small and seemingly ignored, but they can have a big effect, says Ahadi, and the right people are indeed listening. Ahadi says she and her group are regularly saving lives in Iran, and they enjoy support from around the world, including in diplomatic circles.
"When we organize events worldwide, when we protest worldwide, and in particular when we contact European governments, and these governments put pressure on the Islamic regime in Iran, sometimes we have a chance," she said. "And we have saved people who legally had no more possibilities."
Sakineh Mohammadie Ashtiani is among those without legal recourse. The mother of two was sentenced to stoning for adultery after a conviction her lawyer says was based on a coerced confession, though the government said the sentence was under review.
"When a letter comes that someone can be stoned or executed -- this letter came from Tehran -- every minute or every day, something can happen," Ahadi explains. "Sakineh can be stoned at any minute."
But Ahadi keeps trying, as do Ashtiani's children. They have taken their appeal to reverse the stoning order to Iran's speaker of parliament, Ali Larijani. And they have gotten a reaction.
Iran's judiciary chief has temporarily halted the execution, Iranian state media reported Sunday, citing a judicial official. "Although the verdict still stands and is definite, the execution has been halted on humanitarian grounds from the order of the honorable judiciary chief and will not be implemented at this time," Malek Ajdar Sharifi, a judiciary official in East Azerbaijan province, told Iran's Islamic Republic News Agency.
But still -- in phone conversations to the children about their mother's case, Ahadi is careful in her language. "When I talk to the children I don't even use that word -- stoning -- because it is so horrible, so inhumane, and it is a taboo subject, when we talk," she said. "I have never had the nerves to ask them directly: 'When will your mother be stoned?' "
And even if they influence the authorities to overturn the stoning, the outcome may still be the same. "Sometimes stonings are cancelled, but the women or men are executed," she says. "We had, for example, a case like that last year. A man was in Rasht, and the Islamic regime did not stone this man. We fought a lot, but on the last day, they executed him."
Ahadi fears not only for Ashtiani's life but for the future of Ashtiani's children as well. "The Islamic regime is sometimes so brutal," Ahadi says, "Maybe Sakineh will be stoned and the children will even get arrested. You have to constantly be careful."
After Ahadi leaves a day's protest in the streets of Cologne, she often spends the rest of her day phoning people on death row in Iran, some of them teenagers. "I just had a phone call an hour ago," Ahadi says. "Mohammad Reza Hadadi is to be executed in the Adel Abad Prison. He was 15 years old and was arrested, and now he's turning 18 and might be executed."
Convicted minors' sentences sometimes are not carried out until they turn 18, she explains.
When Ahadi returned home, she found a message from the boy's family that, she said, left her "very, very sad."
The boy's 18th birthday was just two days away. Ahadi has a photo of the boy that the family sent to her, which she looks at when she talks to him by phone. "I can't sleep when something like this happens," she says in a shaky voice.
FOLLOW THIS TOPIC