Church of England takes a step toward women bishops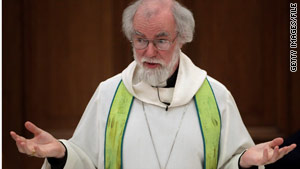 Archbishop of Canterbury Rowan Williams backed a compromise, but the the General Synod rejected it.
STORY HIGHLIGHTS
Church of England leaders support women as bishops
Final approval some time off
Supporters call decision "a powerful mandate"
Opponents say they're not splitting yet
London, England (CNN) -- The Church of England took a small step toward allowing women to serve as bishops Monday, with its governing body voting to recommend their elevation despite warnings from traditionalists that it could split the church.
Church leaders meeting in York overwhelmingly supported changing canon law to accommodate women as bishops. But the move by the church's General Synod must be approved at a future meeting of the governing body, after parishes take at least a year to consider the question.
"This is good news for the whole church, and we are delighted," the Rev. Rachel Weir, leader of the group Women and the Church, which supported the change. The decision "gives the church a powerful mandate to move forward enthusiastically, welcoming the ministry of women at all levels within the church, whilst making space for those who are opposed to stay within our body," Weir said in a statement applauding the vote.
The Church of England first began ordaining women as priests in 1994 and has been debating whether they should become bishops since 2005. But the issue, along with the debate over the ordination of gay priests, has put a serious strain on the 77-million-member Anglican Communion worldwide.
The Catholic Church has reached out to disaffected Anglicans, raising the possibility that conservatives could leave en masse. The General Synod rejected a compromise backed by the nominal head of the church, Archbishop of Canterbury Rowan Williams, over the weekend, with priests rejecting the measure despite the support of bishops and lay leaders.
Forward in Faith, a conservative group that opposes the ordination of women as "contrary to the scriptures," said Monday's vote "contains nothing which can satisfy the legitimate needs" of its members.
"Now, though, is not the time for precipitate action," it said. Its leaders will take stock and debate the issue at upcoming meetings in September and October, the group said in a statement on the decision.
FOLLOW THIS TOPIC