Manhunt for suspected north England killer to last through the night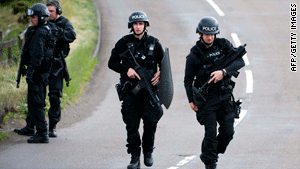 Armed police officers search for Raoul Thomas Moat in Rothbury, England, on Tuesday.
STORY HIGHLIGHTS
NEW: Search for suspected killer may last through the night
NEW: 2-mile area reopens after being locked down for hours; residents advised to stay indoors
Two men, previously believed to be hostages, are arrested
Black Lexus sedan found unoccupied
(CNN) -- An intense search for a suspected killer in a small north England town may last though the night, a police spokeswoman told CNN Tuesday afternoon.
Raoul Thomas Moat -- the man who police say shot his ex-girlfriend, shot and killed her new boyfriend and then gunned down a police officer -- has been on the run since Saturday, said police officials.
Police across Northumbria have focused their search efforts on a 2-mile-long stretch in Rothbury, prompting several streets -- which were described by officials as being usually "busy with commuters" -- and schools to be locked down for several hours Tuesday.
"People have [now] been allowed back into Rothbury," said Northumbria Police spokeswoman Hazel Wilson. They are not being ordered to stay off the streets like earlier in the day, but "they are being advised to stay indoors" throughout the night while police continue its investigation, Wilson told CNN.
Earlier Tuesday, parents were allowed to pick up their children from the two local schools in Rothbury "under the watchful eyes of a significant police presence," said a statement on the Northumbria Police website Tuesday afternoon.
"Police do not believe [Moat] to be a general threat to the public at large, he has specific grievances against certain individuals and groups, however, the advice remains the same, if you see him do not approach him but call the police straightaway," the police statement said.
The four-day, large-scale search operation for the 37-year-old man police call "armed and dangerous" has involved a number of police units across Northumbria, including specialist search teams, armed response units, helicopters and dog handlers, according to police officials.
Meanwhile, two men who were thought to be hostages in an incident that began around the same time as the shootings have been arrested in connection with the manhunt, authorities said.
"Both men have been arrested on suspicion of conspiracy to commit murder," and "both are currently in police custody," said Northumbria Detective Chief Superintendent Neil Adamson.
A public tip led authorities to a black Lexus sedan believed to be connected to Moat. Adamson said the damaged car was unoccupied when found.
In a public address, Adamson had what he called a personal message for the suspected killer:
"Don't leave your children with the wrong memories of their father, you still have a future. Give yourself up now."
The two people injured in the shootings remain in the hospital in what authorities described as critical but stable condition.
FOLLOW THIS TOPIC