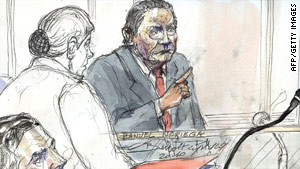 Court sketch shows former Panamanian dictator Manuel Noriega in a Paris court on June 28.
STORY HIGHLIGHTS
NEW: Verdict will be delivered July 7, court says as trial concludes
Prosecutor: Noriega turned away from his responsibilities to serve his personal interests
France accuses him of laundering 2.3 million euros in drug trafficking profits
Noriega says he is not guilty
Paris, France (CNN) -- Former Panamanian leader Manuel Noriega "turned away from his responsibilities as head of state in order to pursue his personal interests," the prosecution alleged Wednesday in closing arguments at his trial on money-laundering charges.
Prosecutor Michel Maes called for Noriega to serve 10 years in prison and for the seizure of money he got dishonestly.
Noriega denies the charges.
The former dictator was extradited from the United States to France in April to face charges that he laundered drug-trafficking profits of 15 million French francs, or 2.3 million euros (U.S. $2.8 million).
His lawyer, Yves Leberquier, said Wednesday he was "flabbergasted" at the call for such a long sentence, saying it would mean death in prison for Noriega.
Leberquier tried to paint Noriega as the victim of larger geopolitical forces, accusing the United States of placing and moving pawns to serve its interests.
He urged the court to see beyond the image of Noriega as a dictator and a drug trafficker, which he said was given to him by the United States.
Noriega listened, his face serious and betraying no emotion, as the prosecutor spoke.
He closed by thanking the court for allowing his defense to present arguments in his favor, and saying he knew the court was wise and that he was trusting them.
The verdict is due July 7, the court said as the trial concluded Wednesday.
Antonin Levy, a junior lawyer assisting Leberquier and Olivier Metzner in defending Noriega, said after the trial that Noriega is happy because he just had the opportunity for the first time to express elements in his defense, which he couldn't do during his trial in the United States.
"So he is confident in French justice. But time will be be very long for him until next week's decision," he said.
Tuesday Noriega told the court that he had a once-strong relationship with the United States.
"I received high praise from the U.S., Interpol and other countries who all benefited from my fight against drugs," Noriega said.
Testifying in Spanish -- and standing for a total of five hours with only two five-minute breaks -- he added, "I was especially in contact with the CIA," describing himself as a "mediator."
The CIA has not commented on Noriega's claims.
U.S. Secretary of State Hillary Clinton cleared the way for Noriega to be sent to France in April after he spent more than 20 years in a U.S. federal prison.
Noriega and his attorneys had argued that the United States was violating the Geneva Convention by not sending him back to Panama, where he was seized by U.S. troops after the United States invaded that country in 1989.
U.S. federal courts ruled against him.
U.S. forces removed the ex-dictator from office during Operation Nifty Package, the 1989 invasion of Panama. Noriega had fled his offices and tried to seek sanctuary in the Vatican Embassy in Panama City.
U.S. troops set up large speakers around the compound, blaring music at all hours, a psychological ploy to rattle the general.
He eventually surrendered on January 3, 1990, and was quickly escorted to the United States for civilian trial.
After his drug conviction, Noriega was given POW status. His federal sentence, originally for 30 years, ended in September 2007 after time off for good behavior.
In Panama, Noriega is wanted for the murder of a political rival. Panama has requested his extradition, but the United States honored France's extradition request instead.
France had already convicted Noriega in absentia for money laundering but then promised him a new trial.
Panama also has convicted him in absentia and has said he would get a new trial.
While in U.S. custody, Noriega suffered from prostate cancer and had a stroke.
The U.S. government has portrayed Noriega as the ultimate crooked cop -- a man who was paid millions by the Medellin drug cartel in Colombia to protect cocaine and money shipments.
CNN's Laurine Antoniol, Niki Cook and Saskya Vandoorne contributed to this report.