Impressionist auction brings in more than $226.5 million
STORY HIGHLIGHTS
Picasso painting was top seller
Auction set UK record
Proceeds did not reach Christie's expectations, however
Matisse work not seen since 1924 sold for nearly $10 million
London, England (CNN) -- An auction that included works by Pablo Picasso and Claude Monet raked in 152.6 million pounds (US$226.5 million) Wednesday night, setting a record for highest total ever realized in an British art auction, according to Christie's.
Picasso's "Portrait of Angel Fernandez de Soto, a 1903 Blue Period masterpiece, took the top price at nearly 35 million pounds ($51.6 million) -- nearly double what the previous owners, the Andrew Lloyd Webber Foundation, paid for it in 1995. An anonymous telephone bidder won the painting.
"Global bidders competed at this evening's auction and demonstrated that the art market continues to attract significant levels of spending, particularly for the rarest and most exceptional works of art," said Giovanna Bertazzoni, director of Christie's Impressionist and Modern Art division.
"We are particularly pleased that Picasso's portrait of Angel Fernández de Soto realized over 34 million pounds with proceeds to benefit arts culture and heritage in the UK, and that for the first time an auction inLondon has broken the 150 million pound barrier."
But the auction fell short of Christie's expected totals -- between 163 million and 231 million pounds ($242.5 million and $343.7 million) for the 62 works. The Picasso didn't bring in top dollar, but did fall into Christie's expectations, between 30 and 40 million pounds ($44.7 and $59.5 million).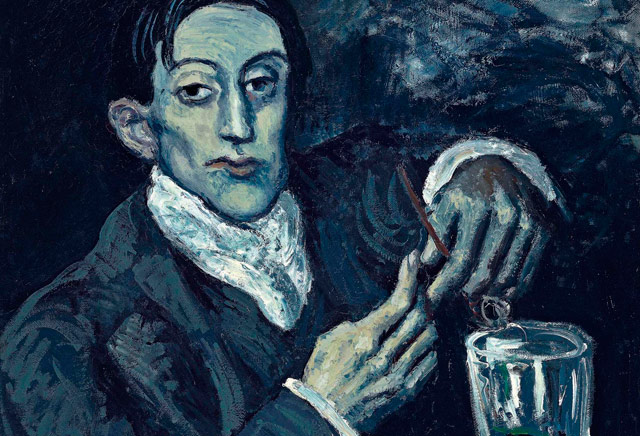 Gallery: Record sale at Christie's art auction
Monet's "breathtaking" water lily painting "Nympheas," from 1906, had been expected to sell for the same amount, the auction house said, but it failed to make the top ten. Another work by Monet, from 1884, brought in nearly $5 million.
Gustav Klimt's "Portrait of Ria Monk III" was sold for $27.9 million, and a 1969 Picasso piece, "Le baiser," sold for $18 million. The only other painting to top $10 million was Vincent Van Gogh's "Parc de l'hopital St. Paul" from 1889, which sold for $13.4 million.
Paintings by Joan Miro, Henri Matisse, Rene Magritte and Auguste Rodin were also sold at the auction.
Matisse's "Nu à la Chaise Longue," from 1923, had not been seen in public since the year after it was painted and was offered at auction for the first time, Christie's said. The painting sold for $9.9 million.
All of the buyers of the top ten grossing paintings were anonymous.
FOLLOW THIS TOPIC