STORY HIGHLIGHTS
NEW: Royal couple sails across Stockholm harbor on gilt longboat
Sweden's Crown Princess Victoria marries at Stockholm Cathedral
Crowds cheer as couple rides in carriage through streets
Groom is commoner Daniel Westling, her personal trainer
Stockholm, Sweden (CNN) -- Sweden's four-day royal wedding celebration reached its peak Saturday when Crown Princess Victoria married commoner Daniel Westling at Stockholm Cathedral.
The ceremony began at 3:30 p.m. (9:30 a.m. ET), and was completed within an hour.
The couple emerged from Stockholm Cathedral to a gantlet of crossed swords. They stepped into a horse-drawn carriage and rode through town to the cheers of thousands of people lining the streets.
The carriage took them to Stockholm's harbor, where they boarded a gilt longboat driven by 18 naval oarsmen. The couple stood on the back of the boat waving to sailors saluting from ships and a submarine as they made their way across the harbor.
A formation of 16 fighter jets performed a flyby as the royal boat approached the royal palace boat landing, crowded with sailors and cheering civilians.
A wedding banquet, hosted by the king and queen, follows in the evening at the royal palace.
Victoria, 32, is the oldest child of King Carl XVI Gustaf and Queen Silvia. She has two siblings, Prince Carl Philip and Princess Madeleine.

Video: Support down for Swedish monarchy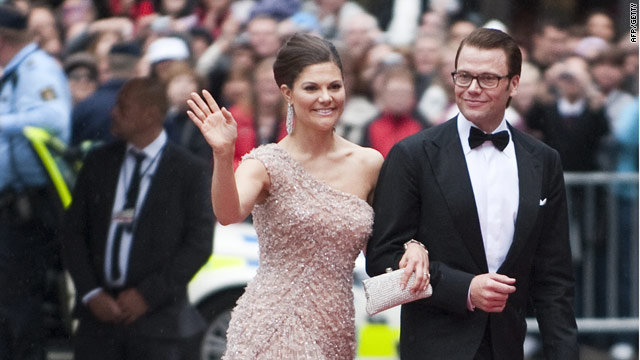 Video: Royal wedding good for economy?

Video: Sweden's royal wedding
Westling, 36, runs a chain of gyms in the capital and met the princess when he became her personal trainer. The pair announced their engagement early last year.
Westling will henceforth be called Prince Daniel, Duke of Vaestergoetland, the palace announced. It is an honor not bestowed on a commoner since the medieval ages.
Westling has had to prepare for his role and learn about life in the royal family.
"I'm learning a lot of things ranging from political science to historia, and also here 'in house,' so to speak, there are a lot of things that happen," he said recently. "I want to understand how this organization is set up and how tasks are carried out."
Marrying a princess means Westling must also follow her official duties, something he said he's prepared to do.
"The queen's main task is to support the king, and in my case, it is to support the crown princess, in their very important work," he said. "If I can do it in the same way the queen does, I would be more than satisfied. That is my goal long term."
Westling hails from the town of Ockelbo, about 120 miles north of Stockholm. That northern heritage, many Swedes say, makes him the perfect partner for Victoria.
"According to Swedish tradition and cliche about people from different parts of the country, people from the north, you can trust them," said historian Herman Lindqvist. "They are cool, they are calm. They don't talk very much. They are like solid rocks, and that's what Victoria needed -- somebody really solid she could trust."
The Swedish capital has been rebranding itself as the "City of Love" ahead of the wedding and inviting tourists to visit.
Souvenir shop owner Asa Norberg, who sells trinkets in the heart of Stockholm's old town, said she hoped the wedding would boost business after she lost nearly a third of her normal customer volume during the recent financial crisis.
"We hope the wedding is going to be very good for us, and good for Stockholm," she said.
Westling himself said he hoped the event could have a positive impact on the city.
"We are of course very happy and proud that Sweden has chosen to go big on our big day, and that it is seen as an opportunity to show Sweden and Stockholm to the world and tourists," he said. "We think it will be a fantastic day."
Around 1,200 guests attended the wedding, including members of royal families from around the world, from Belgium and Spain to Japan, Jordan, and Monaco.
The British royal family was being represented by Queen Elizabeth's son, Prince Edward, and his wife Sophie, Countess of Wessex.
Several of those on the guest list know firsthand about marriages outside the royal circle. Denmark's Crown Prince Frederik met his wife, Crown Princess Mary, during the 2000 Sydney Olympics when she was working as an advertising executive.
Norway's Crown Prince Haakon married student and volleyball coach Mette-Marit, who was already a mother, in 2001. She is now the crown princess.
Victoria's own mother was a commoner before marrying the king. The two met during the 1972 Munich Olympics, where Silvia worked as an interpreter and hostess.
They married in the same cathedral where the royal wedding took place Saturday.
The wedding is a welcome dose of good news for a family that has endured its share of scandal this year.
Princess Madeleine, Victoria's sister, broke off her engagement in March to Jonas Bergstrom after press reports that he had been "intimate" with a college student. The Swedish press had already speculated about the ups and downs of their relationship, with reports of Bergstrom having lived a wild party life at Stockholm's exclusive nightclubs as early as 2005, according to Swedish daily Aftonbladet.
A recent study by Gothenburg University, published in Svenska Dagbladet, showed 22 percent of all Swedes want to abolish the monarchy, up from 15 percent six years ago. The Swedish writer Goran Hagg recently proposed in an interview with TV4 that the king should be elected in a public vote.
Nearly 60,000 people have joined a Facebook group called "Refuse to pay for Victoria's wedding!" complaining about public money being used to pay for the nuptials.
Royal watcher John Lindwall said Victoria and her fiance have had to face many hurdles ahead of the big day.
"This was impossible love from the beginning," he said. "No one was in favor of this, except for Daniel and Victoria themselves, but now on the Saturday in the church, the fairytale is going to be true, and it's going to be a happy ending, for once."
Journalist Per Nyberg and CNN's Jim Kavanagh contributed to this report.
FOLLOW THIS TOPIC