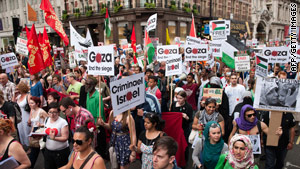 Demonstrators walk through central London during a protest against Israel on June 5, 2010.
STORY HIGHLIGHTS
EU, Middle East Quartet leaders should pressure Israel, Oxfam says
Blockade has crippled economy, creating widespread unemployment, says group
Gaza needs jobs and raw materials, executive editor says
London, England (CNN) -- Oxfam, a U.K.-based international aid agency, is calling on EU officials and the Middle East Quartet to pressure Israel into lifting the blockade of Gaza.
In a press release titled "Gaza needs jobs, not just aid," Oxfam officials warned Monday that Gaza's economy has been nearly demolished by three years of isolation and will continue to degenerate, socially and economically, unless the blockade ends.
Jeremy Hobbs, executive editor of Oxfam International, said that although Israel has allowed an increased number of food items after a deadly aid flotilla incident May 31, the gesture is not enough.
"While this is certainly welcomed, what Gaza needs most are jobs, raw materials for reconstruction and for industry, and the ability to export -- not just short-term aid and consumer products like jam that, without a job, they can't afford to buy," Hobbs said.
According to Oxfam, the blockade, which impedes thousands of goods from entering Gaza, has led to a "wide-scale shutdown" of Gaza's economy, crippling industries and leaving thousands jobless. Oxfam claims the blockade is an illegal form of punishment and is contrary to international law.
"The blockade has unleashed a tragic chain of reaction that has affected many of Gaza's one and a half million residents," Hobbs said.
"When a factory is forced to shut down because it can't import or export, it doesn't just affect the employees who lose their jobs. Entire families relying on that salary also lose out, becoming dependent on humanitarian aid," he said.
Oxfam's Monday report also stated that Gaza's agricultural production has become "almost paralyzed as farmers cannot export their crops and are prohibited access to 30 percent of farming lands in Gaza."
A once-thriving fishing industry has been destroyed by Israel's maritime restrictions on Palestinian fishing boats to 3 nautical miles from the coast, the report said.
"Gaza, a coastal enclave, now has to import frozen fish from Israel and via the tunnels," the statement said.
Guy Inbar, Israel's coordinator of government activities in the territories, said Monday that Israel has begun to ease restrictions on goods to be delivered to Gaza, including cement for building 150 housing units and other supplies for rebuilding El Bader flour mill, destroyed in one of Israel's military raids.
The Israeli government has said the blockade is necessary to keep weapons from being smuggled into Gaza, where militants plan to use them to attack Israel.
The Palestinian Authority issued a statement Monday calling for a "full and complete lifting of the siege imposed on Gaza" and for reopening passage between the West Bank and the Gaza strip.
The Palestinian Authority also said it welcomed the visit of Arab League Secretary General Amr Moussa to Gaza on Sunday.