STORY HIGHLIGHTS
British PM Cameron calls Cumbrian gun massacre "an appalling tragedy"
12 people left dead after gunman Derrick Bird went on killing spree
Police name twin brother of killer as one of the victims
Police tracing map taken by suspect Derrick Bird
London, England (CNN) -- The shooting spree in northern England this week that killed 12 people and wounded another 11 was an "appalling tragedy," British Prime Minister David Cameron said Friday as he visited the region.
"People -- I have met some of them -- are having to come to terms with the most appalling random acts that they will find very difficult to understand, and in some cases there will be no proper explanation," Cameron said in Cumbria, where taxi driver Derrick Bird, 52, carried out his rampage before killing himself.
Cameron and Home Secretary Theresa May visited a hospital to meet with some of the victims and medical staff who treated them. They then went to a local police station to meet with staff, including those who were first on the scene after the shootings.
Senior officers briefed Cameron and May on developments in the investigation, Cameron's office said.
Afterward, Cumbria police Chief Constable Craig Mackey publicly detailed a timeline for Bird's bloody rampage, breaking down the shooting spree into three stages.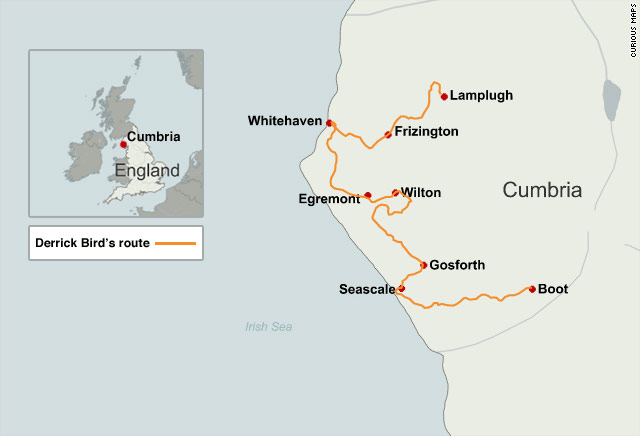 Map: Trail of killings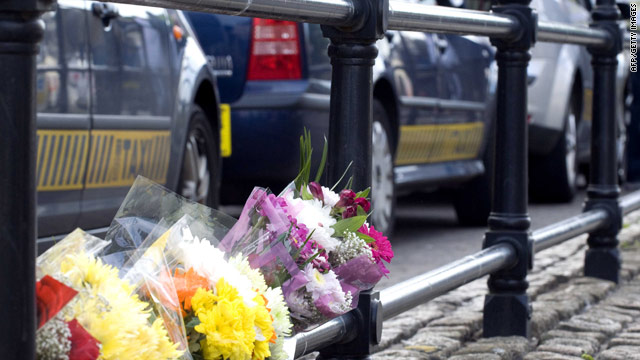 Gallery: Cumbria mass shooting

Video: Police search for motive in UK massacre

Video: Friend of gunman speaks to CNN
In stage 1, Mackey said at a news conference, Bird killed his twin brother, David, in the early morning hours Wednesday. His body was not discovered until 11 a.m., Mackey said. It was during this time period that Bird also killed David Bird's solicitor, Kevin Commons, the chief constable said.
Bird then set out on a "45-mile rampage" through the Whitehaven area, Mackey said.
The second stage lasted from 10:30 a.m. to 11:35 a.m. on Wednesday, the time period when Bird indiscriminately killed another 10 people as he drove through the area, Mackey said.
"As soon as the call came in to us,'" Mackey said, "every armed officer in the county was deployed to the area from across the force -- 42 armed officers in total. Our officers were on the scene within minutes but due to Bird's knowledge of local roads, he had fled in his vehicle and was travelling south through the town firing shots along his way.
"Police and RAF rescue helicopters were drafted into the area and a massive land and air search began. Crucially in this period, Bird was firing shots out of his vehicle moving from place to place, and was not in any one area for a significant length of time."
In the third stage, from 11:35 a.m. to 12:30 p.m., Bird eluded police by "using back roads to drive through rural hamlets ... He was travelling along single track roads in an extremely isolated area and discharged his weapon several times," Mackey said.
Bird was last seen alive around 12:30 p.m. in the hamlet of Boot. Police found his abandoned vehicle a short while later. Bird killed himself before police could arrest him. His body was found around 1:30 p.m.
Mackey said his department tried its best to find the gunman.
"From what we know," he said, "at no stage did any police officer have the chance to end this any sooner."
The investigation continues, he said.
"This has been the most tragic and complex incident I have experienced in my 25 years as a police officer," Mackey said. "We do not underestimate the effect that this will have on us all. Cumbria Constabulary is a local force made up of officers and staff who live and work in the community. We are also part of the tight-knit communities that have been left devastated, and the shock and grief that we all feel is very real.
"Twelve innocent people -- mothers, fathers, partners and friends -- were brutally murdered as they went about their daily lives and I am 100 per cent committed to getting to the bottom of this investigation and finding out why."
Small town may have caused killer to 'snap'
Police on Friday formally identified the final four victims, all of them retirees who had enjoyed the quiet life of the Cumbria countryside, according to their families.
Kenneth Fishburn, 71, was found dead on a bridge over the river in Egremont, 55 yards (50 meters) from his home, police said.
His family said Fishburn was a "lifetime army man" who had served 25 years with the Durham Light Infantry, traveling all over the world. He served another five years as a reservist, serving abroad six months each year with U.N. peacekeeping forces.
Fishburn had lived in the picturesque market town for more than 20 years, his family said.
"Ken was a brother, brother-in-law and uncle," they said in a statement. "He was a quiet, private man and liked nothing better than a few bets and a game of snooker."
Jennifer and James Jackson, 68 and 67, were found dead on the same road in the village of Wilton. Witnesses said they had been walking to meet each other when they were shot moments apart.
James Jackson served in the ambulance service and later worked for an ice cream company. His wife was employed in a tax office before working on the ice cream company's accounts, their family said.
They had two grown children.
"James and Jennifer were members of the over-60s group and often supported events in the Village Hall," the family said. "Jennifer was also secretary to Haile Parochial Church Council. She was a gifted at gardening and flower arranging and gave generously of her talents. They have both supported the church in many ways.
"They were wonderful, quiet, loving people right at the heart of the communities of Haile and Wilton."
Isaac Dixon, 65, was walking home when he was killed between Haile and Egremont, police said.
He was retired from the nearby Sellafield nuclear plant and enjoyed food, country dancing with his partner and walking and cycling outdoors, his family said.
"He could eat like a horse and always enjoyed his food," they said in a statement. "He always managed to retain his tall, lean figure, though, which is how he gained his nickname, Spike."
Dixon would often catch moles for local farmers, his family said, and that's what he had been doing before he was killed.
Police have not announced a suspected motive for the killings. Press reports suggest Bird, a divorced father of two, had been involved in a dispute over a family will with his twin brother.
David Bird's family disputed that in a statement Thursday, saying "there was absolutely no family feud."
"Our dad's only downfall was to try and help his brother," the family said. "Dad was a loving and cheerful character and was well known throughout the village. He will not only be missed by us, but by the whole community. Love you forever. Sleep well."
CNN's Phil Black in Whitehaven -- where some of the victims were killed -- reported Bird may have also been frustrated by the competitive nature of the taxi business in the town, and by the techniques used by his colleagues to secure customers.
Bird fired a number of shots at the Whitehaven taxi stand where he worked, killing taxi driver Darren Rewcastle, 43.
FOLLOW THIS TOPIC