STORY HIGHLIGHTS
Experts speculate as to why a "well-liked" man would kill 12 people in Cumbria
11 others injured after Derrick Bird went on shooting spree through rural towns
Police still to establish motive for Bird's actions amid press speculation
52-year-old Bird drove a taxi in the town of Whitehaven for more than 20 years
London, England (CNN) -- Detectives in England are retracing the bloody trail left by mass killer Derrick Bird to determine what drove the "well-liked" taxi driver to slaughter 12 of his neighbors in a picturesque corner of Cumbria.
For three-and-a-half hours on Wednesday, the heavily armed 52-year-old terrorized residents by driving his car through small villages and towns, firing apparently indiscriminately through the window.
"The focus of the 100-strong squad of detectives investigating the incident is firmly on finding out why someone would want to take so many lives in such a short space of time," Cumbria Police said in a statement Thursday.
Shocked residents asked the same question as police poured over 30 separate crime scenes scattered from the small town of Whitehaven, England, to the tiny village of Boot where Bird's body was found, along with a shotgun and a rifle fitted with a telescopic sight.
The area he covered may be popular with tourists, but it is home to a small population of people clustered in tight-knit communities in a relatively remote part of England.

Video: Police seek motive in killing rampage

Video: Cumbria, UK shocked by killing spree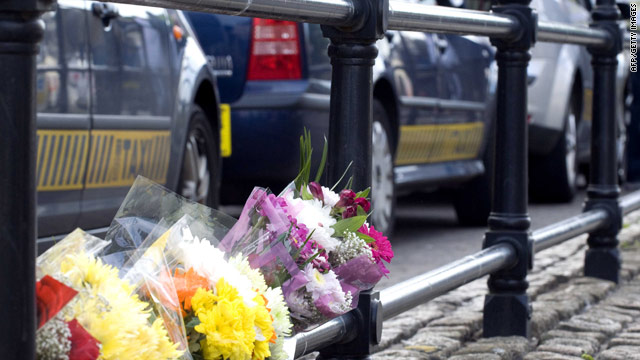 Gallery: Cumbria mass shooting
One psychotherapist said the closeness of the community may have suffocated Bird to such an extent that he saw no other way out.
"It can feel very pressurized and too intense and when that happens people do tend to react out of character. They just snap," London-based psychotherapist Lucy Beresford told CNN.
"If there is a problem, for example, that might have resulted in them losing face or to be embarrassed in some way, shamed in some way, it can be almost intolerable to deal with when you imagine yourself surrounded by people who know you very well."
Peter Leder, who described himself as a friend of Bird's, told CNN Bird had been an independent taxi driver in Whitehaven for more than 20 years. He described him as "an outgoing, well-known guy, who everyone liked."
While Cumbria police have not commented on a potential motive, the British press has focused on two theories, both based on early targets of Bird's murderous rampage.
Press reports suggest the divorced father-of-two was involved in a dispute with his brother over the contents of a family will. Bird's twin brother David was reported to be one of the first people shot, along with Kevin Commons, 60, who was a senior partner in the law firm KJ Commons and Co.
CNN's Phil Black, reporting from Whitehaven, said Bird was also said to be frustrated by the competitive nature of the taxi business in the town, and by the techniques used by his colleagues to secure customers. A number of shots were fired at the Whitehaven taxi rank where Bird worked. Consultant psychologist, Simon Meyerson, told CNN that Bird's grievances could have been rooted in childhood.
"A twin has an added dimension. If one was a favored twin at birth then problems can lie down the line for the one who wasn't so favored, (the one) that wasn't so bright, that wasn't so good-looking. He may have fallen into that category from day one," Meyerson said,.
He speculated that there may be a number of reasons why Bird broadened his rampage from early targeted attacks to seemingly random shooting. "It depends what the scenario was in his mind about his grievance. If it was about the world in general he might then add other people not on his actual personal list," Meyerson said.
"If the end point was suicide... he may have added more to top up the numbers to reach the point where (he thought) 'I have to kill myself, there's no way out of it,'" he said.
Leder said Bird was divorced several years ago and has two children, both boys, who had moved away from home. Bird lived in a terrace house in Rowrah, near Frizington, which remained under police guard Thursday while forensic crews examined the property for clues.
Leder said Bird had warned him on Tuesday night, "you won't see me again."
Despite the verbal clues dropped by Bird before his killing spree, psychotherapist Lucy Beresford said neighbors, colleagues and friends could not have known what he was about to do.
"You probably have to be trained and monitoring someone on a 24-hour basis to be able to categorically say, 'yes I could spot this,'" she said.
"By definition we're actually talking about secretive behavior which takes place first of all in the head which is ruminated on and gets fantasized about. That person is never necessarily going to actually say 'I'm in trouble.'"
The tight ties within the community that may have driven Bird over the edge could also help the community recover from the trauma of multiple deaths, Beresford said. "I think communities and groups have an amazing ability to regenerate and to be able to survive trauma and loss," she said.
However, she said the residents who may need most help are the ones who are struggling to cope with the new reality that the idyllic rural retreat is now the scene of multiple murder.
"When the kind of serpent in the Eden is exposed some might need help to come to terms with the reality of that. But, by and large, my faith in human nature would lead me to believe that people, and the community in particular, will be able to recover from this."
FOLLOW THIS TOPIC