Ireland reopens airports after brief shutdown
STORY HIGHLIGHTS
Irish authorities reopened all airports Friday after volcanic ash caused shut down
Dublin, Shannon, Cork and six other cities were open, the Irish Aviation Authority said
Last month ash forced closure of airports across Europe for six days, causing much disruption
(CNN) -- Irish authorities reopened all airports Friday after shutting them for several hours because of ash from an Icelandic volcano.
The airports in Dublin, Shannon, Cork and six other cities were open with no further plans to close them, the Irish Aviation Authority (IAA) said.
It was the third time in four days that the airports had to be closed because of the volcanic ash, which is being carried in the atmosphere southeast toward Ireland.
"While the northerly winds are keeping the bulk of the cloud out in the Atlantic, the increased size of the cloud continues to pose a risk especially if the winds change," the IAA said.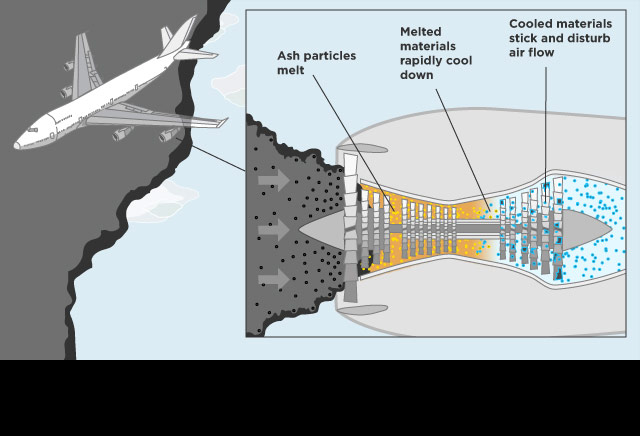 Explainer: How ash affects aircraft engines
The Eyjafjallajokull volcano in southern Iceland, which erupted last month, has been expelling denser and coarser ash higher into the atmosphere since Tuesday afternoon, the IAA said.
That ash is being carried down from Iceland toward Ireland and the United Kingdom, causing the flight problems, it said.
Airports in Ireland, Northern Ireland and western Scotland were shut earlier this week because of the ash.
Flights between North America and Europe are still permitted to fly over the ash cloud at higher altitudes, the IAA said.
"The IAA appreciates the difficulties facing passengers and airlines at this time," it said in a statement. "Decisions are taken solely on the grounds of safety."
It urged passengers to contact their airlines for the latest information on their flights.
Volcanic ash is a serious hazard to aircraft, reducing visibility, damaging flight controls, and ultimately causing jet engines to fail.
It is the first time the ash had caused problems for British and Irish airspace since last month, when it forced the shutdown of airports across the European continent for six days and stranded tens of thousands of passengers around the world.

Part of complete coverage on

The current travel chaos is not the first time an Icelandic volcano has impacted the world, explains a scientist.

Here are some common questions and answers about the ash cloud crisis.

Aviation safety officials in Europe defend the closure of parts of the continent's airspace for six days.

However you pronounce it, Eyjafjallajokull is proving difficult for the world's English speakers.


Most popular stories right now