European leaders to discuss Greece's financial woes
STORY HIGHLIGHTS
Leaders of European countries meeting Friday to finalize financial bailout for Greece
Germany's lower house of parliament approves a 22.4 billion euros bailout package
Italian and Spanish governments also approve their contribution to a bailout plan
The EU announced plans for a 110 billion euro ($140 billion) aid package earlier this week
(CNN) -- The Italian, Spanish and German governments approved their contributions Friday to a 110 billion euro ($140 billion) bailout plan for Greece.
Leaders of several European countries plan to meet Friday in Belgium to finalize details on the plan.
The meeting in Brussels comes a day after Greek lawmakers approved a package of budget-cutting measures to help the country's battered economy -- measures that were required to meet the terms of the bailout.
In Washington, U.S. President Barack Obama said he spoke Friday with German Chancellor Angela Merkel regarding economic and financial developments in Europe.

Video: Greek austerity plan passes

Video: Strikers riot In Greece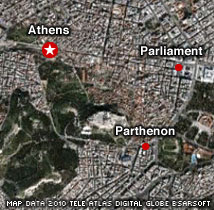 Map: Athens protests
"We agreed on the importance of a strong policy response by the affected countries and a strong financial response from the international community," he said.
"I made clear that the United States supports these efforts and will continue to cooperate with European authorities and the [International Monetary Fund] during this critical period."
European Central Bank officials have tried to play down fears that the economic turmoil in Greece could spread to other heavily indebted European countries like Spain, Portugal and Italy.
iReport: Are you there? Send your pics, video
Spain saw three straight days of losses in its stock market this week after the country's credit rating was downgraded by the influential rating agency Standard & Poor's.
The Spanish government fired back on Friday, threatening to bring "legal action" against speculators accused of launching "attacks" against the economy.
Luis de Guindos, an economist at the IE Business School in Madrid and a former secretary of state for the economy, said, "This is the deepest and most profound crisis we have had in Spain in five decades, since the Spanish Civil War."
In a possible glimmer of hope, the Bank of Spain announced Friday that the nation's economy grew 0.1 percent in the first quarter of 2010.
"It's slightly positive, one decimal point," de Guindos said. "We need some positive news to improve the mood of Spanish society."
CNN's Ivan Watson contributed to this report
FOLLOW THIS TOPIC