STORY HIGHLIGHTS
Hundreds turned away from voting stations in cities across Britain
Electoral Commission announces a "thorough review" of process
Everyone who wishes to vote should be able to do so, it says
London, England (CNN) -- Thousands of people were unable to cast their votes in the UK general election Thursday after being turned away from polling stations amid chaotic scenes.
Ballot boxes across the country were sealed in accordance with UK law at 2100 GMT, despite reports of people still queuing outside.
Police were called to deal with a crowd of around 100 people who were angry at being denied the chance to cast their vote in Liberal Democrat leader Nick Clegg's constituency in Sheffield, northern England, the British Press Association reported.
Student Kate Baldwin told CNN the city's large student population appeared to have been discriminated against when they tried to vote at the Ranmoor polling station in Sheffield Hallam.
"Not only were people turned away because of excessive numbers, but students and local residents were put into two separate queues," she said.
"It was as if we were second-class citizens."
This is an important issue because this has been one of the most closely fought general elections in the UK for over 30 years and the outcome in marginal seats in the UK can be determined by just a few hundred votes or even less.
A good example is the north London constituency of Hampstead and Kilburn, a seat in which the Labour party's Glenda Jackson held on by just 42 votes on Thursday.

Video: UK voting problems lead to anger

Video: Voter anger in the UK

Video: Voters turned away for queuing up late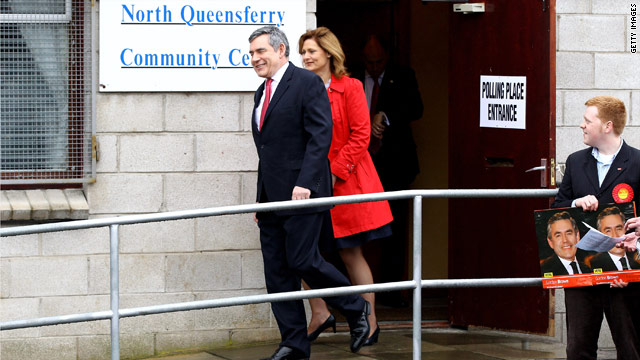 Gallery: UK election
Wes Streeting, President of the National Union of Students (NUS), said in a statement: "Where students and other voters have been disenfranchised, local authorities should hang their heads in shame. It is outrageous that citizens should be denied their basic right to vote and we demand and inquiry into how this situation occurred.
Were you caught up? Send your pics, videos
"We are alarmed by reports that students were placed in a separate, slower queue. Students' unions have worked tirelessly to reverse the trend of low voter turnout amongst students and other young people. What message does this send to first time voters whose votes will not be counted?"
Clegg himself told reporters that it was not right that hundreds of people found themselves unable to vote. "It is something that should never ever happen again in our democracy," he said.
Meanwhile, voters in three constituencies in London were also turned away, PA said, despite the fact that many had queued for up to two hours. The Labour Party said two of its candidates in the area had launched an official complaint over their supporters' inability to vote, PA reported.
There were similar reports of long queues of would-be voters in Manchester, Newcastle and Liverpool, prompting Britain's Electoral Commission -- which oversees the electoral process -- to announce a "thorough review" in constituencies where people were unable to vote.
Students start Facebook campaign
In a statement, it said: "It is a cause for serious concern that many people who wanted to vote today were unable to do so by 10 p.m. when polls closed.
"It is outrageous that citizens should be denied their basic right to vote.
--National Union of Students
"Each returning officer is responsible for deciding numbers of polling stations in their constituency and the numbers of electors allocated to each polling station.
"There should have been sufficient resources allocated to ensure that everyone who wished to vote was able to do so."
Paul Kelly, of the Department of Government at the London School of Economics, told CNN the issue seemed to be that large numbers of people turned up just before the end of voting.
"This is an extraordinary situation," he said. We don't really see this in the UK, we don't deal with people queuing around the block at closing time. If you're not in the polling station by 10 p.m. then it's too late."
A spokesman for Gordon Brown said: "The Prime Minister is very concerned by the reports and would support a thorough investigation into them."
Conservative Party leader David Cameron said it would be an early task for the new government "to get to the bottom of what has happened and make sure that it never happens again."