STORY HIGHLIGHTS
At Children's Home Number 59, only 30 percent chance of child being adopted by Russians

Foreigners do not come to the home for international adoptions

Some fear international adoptions from Russia may slow due to U.S. family's 'return' of child

Russian official: Adoptions to U.S. suspended until bilateral deal inked

Moscow, Russia (CNN) -- Though Oksana is 4 years old, she is much shorter than other children who are a year younger. She barely talks, and yet doesn't hesitate to climb up in her puffy dress to sit next to a visitor on a couch, after flashing an impish smile.
Administrators at Children's Home Number 59 in Moscow say Oksana was found by police, after apparently being abandoned. She was then delivered to a hospital and eventually ended up at this orphanage.
Of the more than 83 children registered here, Oksana stands the best chance of being adopted -- simply because she is one of the youngest children here.
Darya Tatarenko is a young child psychologist who works at Children's Home Number 59. The 22-year-old graduate of Moscow State University has a deep personal interest in adoption: one of her sisters was adopted.
But she estimates the children at this orphanage, who range in age from 3 to 18, have only a 30 percent chance of being adopted by Russian families. Tatarenko says that's because potential parents in Russia often prefer blond and healthy children.
In fact, the odds that they will find a loving family outside of the orphanage seem much lower. In the 10 years since Children's Home No. 59 opened, only four of its children have been successfully adopted, says deputy director Valentina Spivakova.
Administrators say potential adoptive parents may also be reluctant due to the older ages of the children. Another challenge: The orphanage houses many groups of siblings but adoptive parents are unwilling to take in more than one child at a time, and administrators refuse to separate brothers and sisters.
The residents of this orphanage are just a tiny sampling of the more than 700,000 children living in state institutions across Russia, according to a 2008 Russian government census.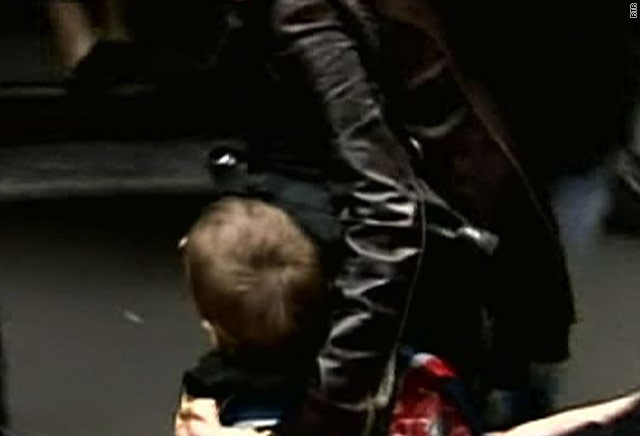 Russia-U.S. adoptions: How they work
"Our data shows 83 percent of [these] children have one living parent," says Bertram Beinvel, UNICEF's representative in Russia.
These "social orphans" have been separated from their parents to protect them from threats like parental alcoholism, child abuse and neglect.
"Most of [the children here] have had traumatic experiences in their life," says Tatarenko, the child psychologist.
Administrators avoid telling the youngest children that they have been abandoned or that their parents are in prison.
"We tell the youngest children their parents are away on a business trip," says the orphanage director, Irina Nemtinovna.
The kids at Children's Home No. 59 appear well cared for. The building over-flows with toys and stuffed animals. The gym is equipped with roller blades, ice skates and a ping-pong table.
When a CNN television crew arrived for a visit, children made two costume changes, while performing a series of dances in a recital hall outfitted with disco lights. Some of them then performed on trumpet, violin and piano, while accompanied by a music teacher.
The orphanage promotes a foster family program, where more than 20 children live full- or part-time with Russian families who receive government subsidies to help cover the additional costs. For some reason, international adoption agencies do not come to Children's Home 59.
Due to the bad publicity that erupted after an American woman tried to "return" her adopted 7-year-old Russian son by shipping him on a solo flight back to Moscow, some child welfare activists fear international adoptions across the country may slow to a trickle.
"I'm so angry [at] this dialogue on TV that we should abandon this," Tatarenko says. "Americans and Europeans take children of all ages, with different diseases...."
Russia's child welfare ombudsman, Pavel Astakhov, says U.S. adoptions of Russian children will be suspended until Moscow and Washington hammer out a bilateral agreement to better regulate international adoptions.
Astakhov, who also plays the role of judge on a "People's Court"-style television courtroom show, points to reports of at least 15 adopted Russian children who died in the U.S. over the last decade. In several cases, U.S. parents were convicted of manslaughter, child abuse or murder.
UNICEF's Beinvel welcomes a fresh U.S.-Russian initiative to sign a new adoption agreement. But he also argues Russia must do more to save hundreds of thousands of children, many of whom are having to be separated from their parents.
"You have a system which is intervening too late," Beinvel says. "A big priority for UNICEF is for the Russian government to change to much more preventative social work...to have a system which is able to much earlier detect...who are the vulnerable families and what are the causes."
Some Russian officials have begun sounding the alarm. According to the Russian news agency Interfax, Elena Mizulina, the head of a parliamentary committee on family, women's and children's affairs, recently announced that there are more "social orphans" in Russia today than there were during World War II, one of the bloodiest periods in Russian history.
At Children's Home 59, some of the kids, like 8-year-old Tanya, have already lived in the orphanage for more than four years.
"I want to go to a family," the girl says. "But my mother won't let me ... she's lying in a hospital."
Some of the younger children appear to have been taught by staff at the orphanage, to hope and pray to be adopted.
"I'm going to be taken to a family soon," one little boy said to a visitor, after performing a series of dances dressed in a sailor suit. "I will take my costume with me and dance there all the time." It is a child's heart-felt dream.
Unfortunately, statistics show this little boy will probably spend the rest of his childhood years growing up at Children's Home Number 59.
FOLLOW THIS TOPIC