Twin brother hopes to succeed late Polish president
STORY HIGHLIGHTS
Brother of Polish president killed in plane crash will be candidate to succeed him
Poland will hold elections on June 20 to elect successor to Lech Kaczynski
April 10 crash killed 96 people including Kaczynski, his wife, military leaders

(CNN) -- Jaroslaw Kaczynski, the twin brother of the Polish president killed in a plane crash earlier this month, will be a candidate to succeed him, his party announced Monday.
Poland will hold elections on June 20 to elect a successor to Lech Kaczynski, who died April 10, along with 95 others including his wife and many top military leaders and officials.
Acting President Bronislaw Komorowski has also said he will be a candidate.
Jaroslaw Kaczynski was prime minister for about two years, until the brothers' Law and Justice party lost parliamentary elections to the Civic Platform in 2007.
Lech Kaczynski and his wife were laid to rest on April 18, marking the end of a journey filled with grief for the central European nation.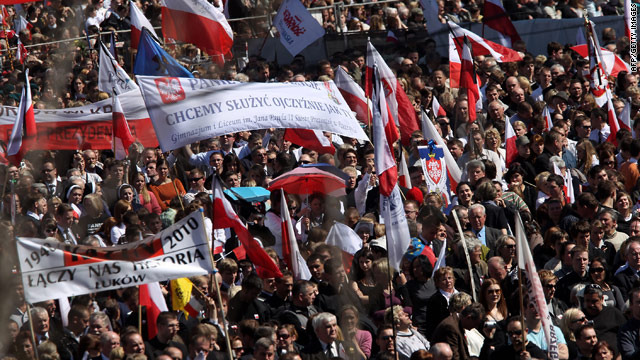 Gallery: Crowds gather for Polish memorial

Video: Poland mourns late president Kaczynski

Video: Funeral for Polish president

Video: Thousands mourn Polish crash victims
Their bodies were taken along Krakow's historic "royal route" from St. Mary's Basilica to Wawel Castle after the funeral mass.
Kaczynski's coffin was draped in the presidential flag, while his wife's was covered with the red-and-white Polish flag during the ceremony at the huge, elaborately decorated cathedral.
Jaroslaw Kaczynski, ashen-faced, led mourners at St. Mary's. Dressed in a simple black suit and tie, the surviving twin was joined by Prime Minister Donald Tusk, former President Aleksander Kwasniewski, Lech Kaczynski's daughter and foreign dignitaries.
Tens of thousands of Poles dressed in black lined the streets and tossed flowers at the motorcade carrying the president and first lady, who were killed in a plane crash in Russia April 10.
About 50,000 mourners, some waving flags, sat in silence in Market Square outside the cathedral, where giant monitors televised the service, the Polish government press office said.
Images of Poland's collective grief
Ninety-six people died in the plane crash, including dignitaries and top military leaders. The group was on its way to a service commemorating Polish prisoners of war massacred in Russia during World War II. The plane crashed in bad weather.