STORY HIGHLIGHTS
Thousands of Georgians still living in displacement camp Akhali Tserovani
Since war with Russia in August 2008 one checkpoint has re-opened between countries
Georgia's Orthodox patriarch Ilia says Russian president wants displaced returned to homes
Editor's note: CNN's new series i-List takes you to a different country each month and highlights innovation and influence in business, technology, culture and more. In April, we visit the Republic of Georgia focusing on changes shaping the country's economy, culture and its social fabric.
Erganeti, Georgia (CNN) -- For half an hour on the evening news last month, Georgia was once again at war with Russia.
Georgia's IMEDI TV station broadcast what it called a "simulation" of what a fresh Russian invasion would look like-- with footage of Russian tanks on the move.
The broadcast ended with a note that the events in it were not real. However, the show did not run any on-screen notes during the half-hour broadcast to alert viewers that what they were watching was not real. Consequently many were alarmed.
The station's directors later apologized for spreading panic.
But for Ano Chevaidze, it was already too late. "I cried when I saw that," she told CNN. "Why would they put traumatized people like us through something like that again?"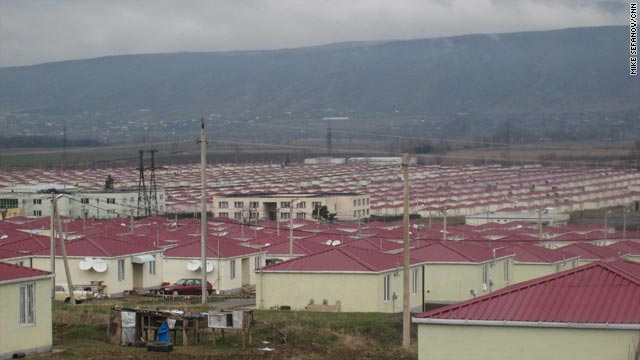 Gallery: Georgia's no-mans land
Chevaidze lives in a one room cabin next to the ruins of her house in the village of Erganeti, a strip of no-man's land that separates Russian and Georgian-controlled territory. It was torched during Russia and Georgia's brief, but bloody war.
It started on August 7 2008 when Georgian troops attacked Russian-backed separatists in the breakaway region of South Ossetia. The Russian Army retaliated, driving deep into Georgian territory.
Tens of thousands of Georgians fled their homes and some 30,000 are still displaced.
Some of them now live in a colony in Akhali Tserovani. It was built by the Georgian government, which pays cash subsidies to residents every month.
The people who live there say all they want is to return to their homes. But their homes are now in Russian-occupied land.
Georgia's Orthodox patriarch Ilia II says he discussed the fate of the displaced during a meeting with Russian president Dmitry Medvedev, several months after the war.
The Georgian patriarch explained to CNN that Medvedev had told him that refugees must return to their homes.
"This was very happy news," Ilia II said. "But it is a fact that these words remained just words and they were not fulfilled."
Russia and Georgia share a mountainous border nearly 500 miles long and their cultures have been closely intertwined for centuries but it has rarely been an easy relationship.
As it stands right now, the Russians and the Georgians have re-opened one border checkpoint and there's a trickle of traffic going back and forth. But still, the two governments do not get along.
Moscow and Tbilisi still aren't talking to each other and each side blames the other for starting the conflict.
Nika Galauri, Prime Minister of Georgia told CNN: "It's political will from Russian side that needs to be shown in order for situation to move forward."
But that's little consolation for Ano Chevaidze, one of the few Georgians left in Erganeti.
"This village is deserted," Chevaidze said. "If the two governments don't make an agreement soon, there will never be any hope for a normal life here."