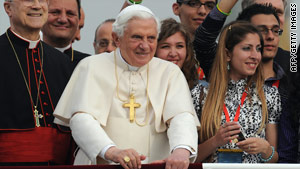 Pope Benedict XVI during a visit to Malta on Sunday, April 18, 2010.
STORY HIGHLIGHTS
Abuse crisis overshadowing pope's other actions in his first five years

Benedict has been more pragmatic than ideological in appointing bishops

Pope has not been the iron-fisted hardliner that some predicted
(CNN) -- For the fifth anniversary of Benedict XVI's papacy on Monday, the Vatican is expected to do everything it normally does to celebrate such milestones: the pope will lunch with dozens of Catholic cardinals from around the world and deliver remarks from his window above St. Peter's Square, while Vatican employees will receive an anniversary bonus in their paychecks.
But as the sex abuse scandal continues to embroil the Roman Catholic Church in more than a half-dozen countries across Europe -- and with allegations being raised that the pope himself responded inadequately to abuse allegations before he began leading the church in 2005 -- Benedict's anniversary celebration has been overshadowed by international scrutiny of his leadership.
"Were it not for the scandal stories, I would say that 5 to 10 percent of Catholics would be noting that this is his fifth anniversary," said Rocco Palmo, who writes a popular Vatican-focused blog called Whispers in the Loggia. "But a lot more people know that now because of the scandal. It's a moment of sizing up what Benedict's doing and what he has done."
The abuse crisis is the latest in a string of controversies that have largely dominated Benedict's first five years as pontiff, from his 2006 remarks about Islam as "evil and inhuman" -- which provoked rioting in some of the Muslim world -- to his lifting the excommunication of a Holocaust-denying bishop in 2009.

Video: Pope meets with abuse victims
"For the vast majority of Catholics on the planet, this is a papacy that is defined by its train wrecks, and there is a depressingly long list of them," said CNN Vatican analyst John Allen. "The sex abuse crisis is only the most recent and the most intense."
Benedict's other controversies include his comments last year that condom distribution "increases the problem" of AIDS during his first papal trip to Africa and his decision to revive a Good Friday prayer for the conversion of Jews
Despite those flaps, Benedict hasn't turned out to be the iron-fisted hardliner that many Vatican watchers predicted after his election. In his previous job, as the Vatican's chief enforcer of orthodoxy, Benedict -- then named Joseph Ratzinger -- had earned the nickname "God's Rottweiler."
Though Benedict has taken the church in a more conservative direction -- he has brought back traditional forms of worship, including the Latin Mass -- he had declined to silence a single Catholic theologian. Nor has he ordered a wave of excommunications.
"Many people were actually disappointed because they thought Benedict would lead some huge housecleaning of the church, getting rid of elements that they didn't like," said Joseph Zwilling, director of communications for the Catholic Archdiocese of New York.
In appointing new bishops -- among the most lasting of the pope's decisions -- Benedict has been more pragmatic than ideological.
Earlier this month, the pope named Jose Gomez to be the next archbishop of Los Angeles, putting Gomez in line to become the first Hispanic cardinal from the United States. The move was seen as an acknowledgment of the increasingly Latino complexion of the American Catholic Church.
But controversies surrounding Benedict have garnered much more international attention than have his conciliatory actions. "The media's focus on the (abuse) cases, things that were done or not done 10, 20, 30 years ago, has obscured some of the rest of what Benedict has been doing," said Zwilling.
Others place more blame on Benedict himself, saying his disregard for global public relations -- a key preoccupation of his predecessor, Pope John Paul II -- has exacerbated or even precipitated some of the church's recent crises.
"The whole Williamson affair was a disaster of communication," said Cardinal Walter Kasper, a Vatican official, referring to the pope's revoking the excommunication of Bishop Richard Williamson, a Holocaust denier.
An intellectual who has described his books as some of his closest friends, Benedict has focused more on scholarship and teaching -- including a well-received book on Jesus and three papal encyclicals, or letters -- than on managing the church's public image.
The result has been a fractured Vatican response to the mounting claims of priest sex abuse in Europe. Last week, the Vatican's secretary of state publicly tied child sex abuse to homosexuality. Earlier in April, the pontiff's personal preacher compared the attacks on the church to anti-Semitism, though the priest later apologized.
A CNN/Opinion Research Corp. survey released on Friday showed that 56 percent of U.S. Catholics disapprove of how Benedict has dealt with the problem of sexual abuse committed by priests. About one in three Catholics has a positive view of how he has dealt with the problem, the survey found.
"At the moment, Benedict is a world-class teacher whose classroom is empty because the school is burning down," said Allen, who is also a senior correspondent for the National Catholic Reporter.
Indeed, many Vatican watchers say that the pope's response to the abuse crisis will offer a better gauge of his papal legacy than his fifth anniversary.
"The time is calling for an unprecedented level of response and action," said Palmo, the Vatican blogger. "The scandal has gotten to the point where no one else can handle it now except for the man in white."