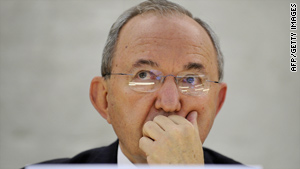 STORY HIGHLIGHTS
Richard Goldstone: Trials used by war crime defendants to appeal to "fringe" support groups
Goldstone was ex-chief prosecutor of the U.N. International Criminal Tribunal for the former Yugoslavia
Division of Bosnia in 191990'sreated a "very unworkable state," Pulitzer-winning journalist warns

(CNN) -- A top former international prosecutor has said that Serb leaders who face war crimes trials often use the proceedings to try to enhance their reputations among "fringe groups."
"They realize that this is the only -- quote -- 'benefit' they can get ... and that is to use it for their own selfish political purposes rather than to face seriously the charges which are being put to them," said Richard Goldstone.
Goldstone, in an interview with CNN's Christiane Amanpour, added, "They want to use the trial to the extent they can as a platform for speaking to their own fringe groups who are still unfortunately around in Serbia in particular."
But Goldstone, who is a former chief prosecutor of the U.N. International Criminal Tribunal for the former Yugoslavia, said the trial of former Bosnian Serb leader Radovan Karadzic -- currently under way in the Hague -- is very important to lay the ghosts of the past to rest.
He was speaking as Karadzic faced prosecution witnesses for the first time in his trial. Karadzic faces 11 counts of genocide, war crimes and crimes against humanity. He denies the charges.
The worst atrocity was the massacre of as many as 8,000 Bosnian men and boys in the U.N.-protected town of Srebrenica in 1995, after the enclave was overrun by Bosnian Serb troops. The Bosnian Serb military commander, Ratko Mladic, is still at large and is believed to be hiding in Serbia.
Roy Gutman, foreign editor of McClatchy Newspapers who won a Pulitzer Prize for his reporting on the conflict, said there is a sense that the legal proceedings will be incomplete as long as Mladic is on the run.
Gutman said Mladic is being protected by his own military cohorts, and it's going to take a huge effort to apprehend him.
Speaking to Amanpour from Belgrade, Serbian human rights activist Natasa Kandic said it's very difficult to locate Mladic.
"Serbian officials decided to arrest Karadzic and it was a really big surprise. But with Mladic, it's different. He's more important than Karadzic," she said.
Gutman said the Serb parliament's apology last month for the Srebrenica massacre, which stopped short of calling the killings genocide, was late and also perhaps inadequate.
He also warned of the possibility of new violence in the Balkans. "The division of Bosnia that occurred in Dayton [Ohio], where the U.S. sponsored a peace conference in 1995, created a very unworkable state."
"And the Serb entity, which is where they ethnically cleansed or killed or raped the inhabitants to force them to leave, is in a position to veto and block nearly every action that the rest of the Bosnian public, and parliament, wants to do," he added.
Under the Dayton agreement, Bosnia-Herzegovina remained a single state. But many political powers were devolved to two new entities -- a Muslim-Croat federation and a Bosnian-Serb republic.
Gutman said the prime minister of the Bosnian-Serb republic is now threatening to hold a referendum on whether to leave Bosnia, a move that could lead to more violence and the possible involvement of international forces in a new conflict -- 15 years after the end of the Bosnian war.