UK parliament dissolves ahead of vote
STORY HIGHLIGHTS
UK voters go to polls in general election on May 6
Labour chasing fourth straight victory but Conservatives ahead in polls
Dissolution of parliament a procedural step performed by Queen Elizabeth II
New parliament due to take office on May 24
London, England (CNN) -- The British parliament was officially dissolved on Monday, as a nationwide election campaign launches to determine if Gordon Brown can hang on as prime minister.
The opposition Conservative party, led by David Cameron, has consistently held an edge in recent opinion polls, but it is not clear that Cameron has a big enough lead to dislodge Brown.
Elections take place on May 6.
Brown's Labour party has been in power for 13 years, first under Tony Blair and, since 2007, with Brown as prime minister.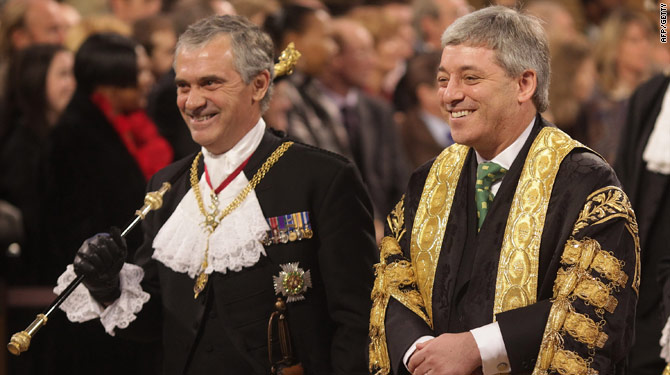 Video: Hung parliament in UK?

Video: Racing from and to Westminster

Video: Deconstructing the UK election
Brown is hoping to lead Labour to an unprecedented fourth consecutive term in office.
Under the British parliamentary system, voters choose a member of parliament from each of 650 constituencies, or districts. The party with the most seats traditionally gets the first chance to form the new government.
Queen Elizabeth II, as head of state, formally dissolved parliament on Monday, a procedural step.
The announcement means there are officially no members of Parliament as of 5 p.m. London time Monday (12 noon ET.)
"MPs immediately revert to being members of the general public and lose all the privileges associated with being a Member of Parliament," Parliament's Web site says.
"They are allowed access to Parliament for just a few days to remove papers and equipment from their offices. But all MPs' services and facilities are closed at 5 p.m. on the day of dissolution," the site says.
"Government ministers remain in charge of their departments until after the election result is known," according to Parliament, but do not make any major policy decisions.
The new parliament is due to take office on May 24.

Part of complete coverage on

The experience of minority and coalition governments worldwide shows the advantages and risks.

The downfall of Gordon Brown as UK prime minister could not have been more dramatic.

CNN's team of reporters explain why the British election matters to a global audience

The final decision over who becomes prime minister lies with the queen -- who doesn't vote.

The last time Britain had a hung parliament, in 1974, voters were back at the polls within months

Who are the "Lords" and the "Commons?" What's a "hung parliament"? And what role does Queen Elizabeth have?


Most popular stories right now