Facebook to discuss 'panic button' with police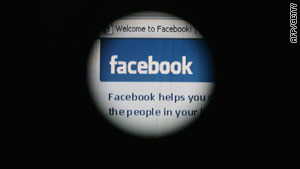 Campaigners want Facebook to include a "panic button."
STORY HIGHLIGHTS
Senior UK police officer urges Facebook to have a "panic button"
But Facebook says adopting button would have no effect on reducing abuse
Facebook says it has a "robust" reporting system in place
London, England (CNN) -- Facebook executives are due to meet a senior UK police officer Monday in Washington to discuss child safety issues.
The social networking Web site has been criticized by UK child experts and police authorities for not doing enough to make it easier for children to report bullying or sexual abuse.
Jim Gamble, chief executive of the London-based Child Exploitation and Online Protection Center (Ceop), wants Facebook to install a "panic button."
Gamble, who is seconded to Ceop from the Serious and Organized Crime Agency (SOCA), has said that there is "no legitimate reason" for Facebook not to have a "Click Ceop" button.
Gamble is due to meet Elliot Schrage, vice president of policy and communications at Facebook and Joe Sullivan, chief security officer.
A Ceop spokeswoman told CNN the agency had received 253 complaints about Facebook in the first quarter of this year and that only one of these had come "through the Facebook environment."
"We have been trying to engage with Facebook for some time, this meeting is happening after a long build-up.
"More and more children are using Facebook and a panic button would allow them to report potential threats directly. We have experts who can respond immediately."
Don't disclose too many details about your identity in your online profile

If people ask to be your friend or buddy, remember that no matter how much they tell you, they are still strangers and they might not be telling you the truth

Don't upload anything that might embarass you at a later date

Don't get into arguments online, this is called flaming and it can turn nasty

Don't upload pictures or video of anyone without their permission
Ceop says there is an urgent need to install the button and that it will help both children and parents.
A Facebook spokeswoman told CNN: "We will be discussing many issues, there are lots of initiatives."
The lack of a Facebook panic button was highlighted after the murder of a 17-year-old student last October by Peter Chapman, who she met on the social Web site.
Chapman had posed on the Web site as a young man and spent time grooming Ashleigh before the pair exchanged mobile phone numbers and agreed to meet. After killing her he dumped her body in a field near Sedgefield in County Durham, northeast England.
Last month Chapman, 33, was jailed for at least 35 years at Teeside Crown Court for the killing.
Until now Facebook has said adopting a button would have no effect on reducing abuse and that it had a number of measures in place to report bullying or abuse.
The company, which claims to have over 400 million users worldwide, has said it has a "robust" reporting system in place.