STORY HIGHLIGHTS
Cameron credited with reviving the center-right opposition Conservatives
Cameron styled as a "compassionate" Conservative, softer on social issues
Polls put Conservatives ahead, but UK could be heading for "hung parliament"
Commentators see comparisons with Tony Blair in Cameron's leadership style
London, England (CNN) -- David Cameron has spent more than four years tipped as a prime minister in waiting as leader of the opposition Conservative Party -- a period he has called "the longest job interview in the world."
With the election campaign entering its final hours, polls suggest Cameron -- credited by his supporters with rehabilitating his center-right party after three successive defeats -- is well on course to win the biggest share of the vote.
But he could still come up short in his bid to win an overall majority for his party in the House of Commons where the Conservatives need to gain more than 100 additional seats -- a near-seven percent landslide -- to wrest control from Gordon Brown's Labour Party.
That could yet see Cameron denied office by a coalition between Labour, with or without the faltering Brown, and the Liberal Democrats, who many analysts see as more natural ideological allies than a Conservative-led coalition.
While Cameron has waged a solid campaign, calling for Britons to vote for change after 13 years of Labour government, he has also been forced to fight off an unexpectedly strong challenge from the Liberal Democrats, traditionally the UK's third party.

Video: Conservatives and the British election

Video: British election campaign launched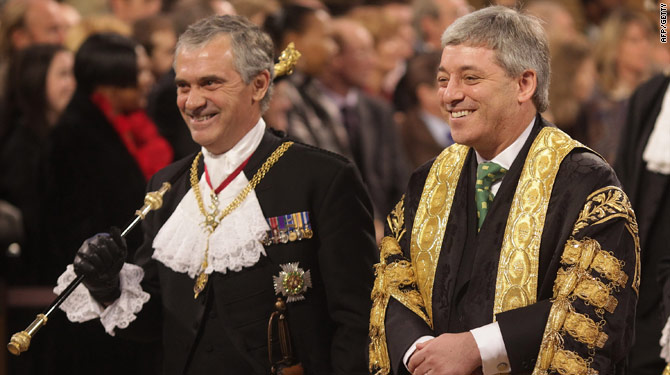 Video: Hung parliament in UK?

Video: Social media and the UK election
That followed a strong performance by Lib Dem leader Nick Clegg in the first of three televised debates between the three main party leaders; the first time such debates have been held in a British election campaign.
But Cameron fought back strongly in the third debate on the subject of the economy with most polls giving him a clear victory over his rivals.
In recent months, commentators have detected a "more terse, zingy" Cameron, compared to the smooth performer to whom Britons have grown accustomed.
"It was a big change from the Cameron of a few months ago who was so maddeningly languid and moderate," the Daily Mail newspaper's Quentin Letts said of one performance.
Anything less than an outright majority would be damaging for Cameron, whose appeal to the Tory faithful has mostly rested in the promise that he would deliver an election victory -- and preferably an emphatic one -- for a party which dominated 20th century British politics.
The 43-year-old has styled himself as a new kind of compassionate Conservative who has modernized his party -- historically a bastion of privilege, wealth and establishment values -- by softening its stance on social issues and broadening its appeal by recruiting more female and ethnic minority candidates.
"I want to tell you what I am fighting this election for -- it is the people I call the Great Ignored," he told supporters at one rally.
"They may be black or white. They may be rich or poor... They are the honest, hard-working people of our country and they are desperate to know that in this great country we can still achieve great things."
Yet Cameron's background is far from ordinary. He was educated at Eton, the UK's most exclusive fee-paying school, before joining Conservative ranks as a policy researcher after graduating from Oxford University in 1988.
After a foray into the world of PR -- skills some say have been put to good use in re-branding his party -- Cameron's political career began in 2001 with his election as MP for the Oxfordshire town of Witney in central England.
He credits the short life of his severely disabled son Ivan, who died aged six in 2009, with sharpening his political focus and making him a passionate advocate for the state-run National Health Service.
"Tony Blair once explained his priority in three words: education, education, education. I can do it in three letters: NHS," Cameron said at the Conservative Party Conference in 2006.
Cameron and his wife Samantha have two other young children and recently announced they are expecting another in September.
Cameron has played down his privileged background but opinion polls suggest his party is still vulnerable to attacks on class.
Commentators have detected a 'more terse, zingy' Cameron, compared to the smooth performer to whom Britons have grown accustomed
An attempt to make him the focus of the Conservatives' campaign backfired in January when billboards featuring his image were defaced and became the subject of a spoof anti-Cameron viral campaign.
Cameron has also come under fire for sometimes appearing muddled and vague on his party's policies.
In January he admitted that he had "messed up" over the party's promise to introduce tax breaks for married couples when he appeared to retreat from that pledge in an interview, forcing his press office to issue a statement reaffirming his commitment to the policy.
And while the Tories have pledged to reduce the UK's $272-billion deficit, Cameron distanced himself from his tough-talking shadow finance minister George Osborne by saying: "We're not talking about swingeing cuts. We're talking about making a start in reducing our deficit."
Cameron further angered many in his own party last year by abandoning a "cast-iron guarantee" to hold a referendum, if elected, on the Lisbon Treaty -- an agreement seen by opponents of closer European Union integration as a step towards a federal super-state.
That put him on a collision course with the Conservatives' notorious Euroskeptic faction which split the party the last time it was in power under John Major.
In a move aimed at appeasing those critics, Cameron withdrew the Conservatives from the main center-right European People's Party, forming a controversial alliance in the European Parliament with nationalist parties from eastern Europe instead.
But that seemed to risk isolating a Cameron administration from natural center-right allies in Europe such as German Chancellor Angela Merkel and French President Nicolas Sarkozy.
In policy terms, Cameron appears more comfortable speaking broadly rather than specifically, pledging to "break up big government" and "take tough and difficult decisions," and putting the prospect of five more years of Labour rule at the center of the Tory campaign for election.
"Do we want five more years of Gordon Brown or do we want change with the Conservatives who've demonstrated they've got the leadership, the values, the strength of character and the energy to get this country moving?" Cameron asked supporters at a rally on March 27.
Cameron has attempted to turn the Labour leader into the bogeyman of the campaign, with Conservative posters featuring an image of a smiling Brown alongside sarcastic messages such as: "I doubled the national debt -- Vote for me."
But many political observers see parallels in Cameron's youthful vigour, polished presentation skills and evasion of easy ideological pigeon-holing with Brown's Labour predecessor, Tony Blair.
Cameron and Blair, writes former Labour lawmaker David Marquand in his history of modern British politics, "share the same winsome grace, the same ability to shift affably over the rifts of interest and the same acute nose for public moods."
Comparisons with Blair, who swept to power on a landslide in 1997 and went on to win two further elections, seeing off four of Cameron's predecessors as Conservative leaders, perhaps flatter a politician yet to have faced the electorate as the leader of his party.
Yet Blair's prime ministerial career -- ultimately undermined by the Iraq war and the perception among his critics that spin doctors were exerting too much influence -- also demonstrated the limits of the style of presentational politics which Cameron's critics accuse him of imitating.
In an editorial published in December 2009, the Times of London said Cameron had yet to make a "clear, unambiguous and compelling case for a Conservative government" and appeared content to ride into Downing Street on the back of disillusionment with an ailing Labour government.
"The central charge against him is that, while he is approachable and likeable, his aims and values as a future prime minister of this country are still unclear," said the newspaper. "David Cameron has yet to answer a basic question: what does he stand for?"
As polls open Thursday, Cameron will soon know whether he has persuaded voters that he knows the answer to that question himself.