STORY HIGHLIGHTS
Gordon Brown fighting to win his first election as Labour leader
If he loses Brown's premiership will be shortest for almost half a century
Premiership went downhill when he ducked widely expected election
Political mood shifted; Labour has trailed ever since amid fierce recession
London, England (CNN) -- For any leader, facing the electorate after his party has been in power for 13 years would be tough. UK Prime Minister Gordon Brown though is fighting to stay in Downing Street in as bad a political climate as could be imagined.
Of most concern to voters is the state of Britain's economy: the country has massive debts, the economy is struggling out of recession and a series of industrial disputes is reviving memories of the "Winter of Discontent" that helped to bring down the last Labour government in 1979.
And in Afghanistan the military is fighting an unpopular war against the Taliban: more than 270 British forces personnel have been killed since 2001 and an opinion poll conducted in February found only 53 percent of Britons said they had a clear idea of what the war is about.
Why this could be the closest UK election in two decades
But as Britain prepares to vote in Thursday's general election, opinion polls are incredibly tight, suggesting neither Labour nor the main Conservative Party will win a workable parliamentary majority.
If Labour does lose power, Brown's premiership will be the shortest for almost half a century. Quite a turnaround for a politician known before he became PM as the "Iron Chancellor," the minister who presided over Britain's finances for a record 10 years with "prudence" and steely control.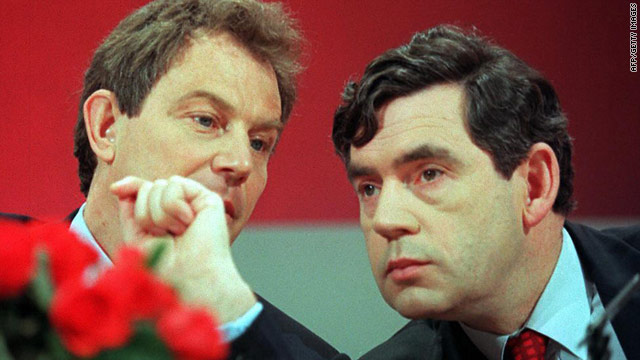 Gallery: Gordon Brown: The Downing Street years

Video: Holy cow: Farmer's view on election

Video: Odd election indicators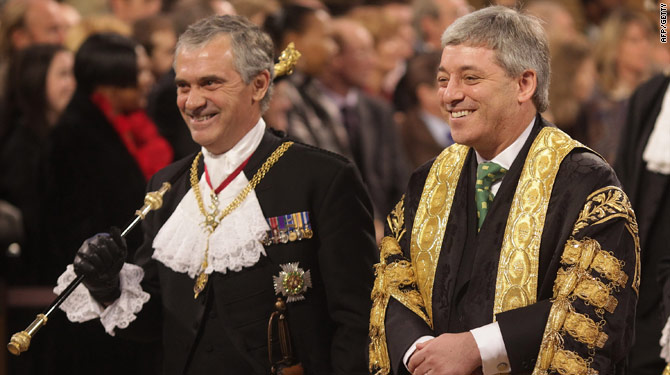 Video: Hung parliament in UK?
On his Web site Brown says his proudest achievements as chancellor were making the Bank of England independent and bringing about a world agreement on poverty and climate change at the G-8 summit in 2005. While chancellor, Brown also declared Britain would not join the euro single currency until it had passed five economic tests: in 2003 the Treasury declared they had not been met.
Napoleon Bonaparte never promoted anybody to high military rank without asking "Is he lucky?" On this basis Brown would not have been a general. The contrast between Brown and his predecessor as PM, Tony Blair, could not be greater. "Teflon Tony" as the media nicknamed him, ended 18 years in opposition for Labour, won a record three elections for his party and presided over 10 years of falling unemployment and rising house prices. Only the Iraq war cast a cloud over his premiership.
Brown started successfully as PM, analysts said: he handled the attempted terrorist attacks in London and Glasgow well, but his premiership went downhill when he ducked a widely expected general election in 2007 that would have given him his own mandate. (Brown was never elected by voters as he took over mid-term from Blair.) The opposition scented blood: Cameron said at the time that Brown had shown "great weakness and indecision" and had made a "humiliating retreat."
The political mood shifted, and Labour has trailed in the opinion polls ever since. The economic crisis hardly helped, especially when voters were reminded that it was Brown himself who had controlled the economy for a decade.
However he did win plaudits from world leaders in 2009 for his policy of pumping in massive amounts of public money to prop up the economy and ailing banks. U.S. President Barack Obama backed Brown's call at the G-20 summit in London that year for the world's leading economies to sign up to a "global deal" to haul the world out of the crisis triggered by the collapse of the banking system. But some European leaders, notably French President Nicolas Sarkozy and German Chancellor Angela Merkel, were less keen on the plans, fearing they could lead to inflation.
Gorson Brown is perceived to be strong on detail, but lacking in the personal skills needed in the era of rolling news.
Brown is perceived to be strong on detail, but lacking in the personal skills needed in the era of rolling news. Those fears were confirmed in this year's election campaign when he was judged to have lost the three televised debates between the party leaders -- a first for the UK. Things went from bad to worse when a TV microphone caught him dismissing Labour voter Gillian Duffy as "a bigoted woman" forcing him to apologize in person to her.
But the Conservatives under-estimate Brown at their peril and in the dying days of the 2010 election campaign he appears to have found his voice in impassioned speeches to supporters.
When Blair gave his last parliamentary speech before leaving office he taunted Cameron that Brown's "great clunking fist" would soon bear down on him, although those words of support in public disguised the reported animosity between them.
Brown and Blair, who both became MPs in 1983, were once close friends. But after Labour's landslide victory in 1997, the relationship deteriorated over a rumored deal under which Brown pledged not to stand as leader of Labour after the death of John Smith in 1994, giving Blair a clear run. Brown would have control of domestic policy and Blair would hand over power at a certain time.
When Blair refused to stand down in his second term, the media reported that Brown was encouraging supportive MPs to rebel, but he never wielded the knife that could have brought Blair down, even when he faced his darkest hour over the Iraq war.
The two men's backgrounds could not have been more different. While a young Blair acted on stage and sang in student rock bands, Brown was a precocious academic, going to Edinburgh University at the age of just 16 and graduating with first-class honors. But while playing in a college rugby match he was kicked in the head, and suffered a detached retina. Despite lengthy treatment, including weeks lying in a darkened room, he was blinded in his left eye.
His commitment to social justice came, he said, from his father, a church minister in the Scottish industrial town of Kirkcaldy. On the PM's Web site, Brown describes how his father "often helped those in desperate circumstances who saw the minister's house as their only refuge for help."
Brown is married to Sarah, who is said to have worked hard to make her husband appear more normal and likeable. On one TV chatshow this year, appearing with his wife, he talked emotionally about the death of his baby daughter Jennifer in 2002 and his fears about the possible premature death of his son Fraser, who has cystic fibrosis.
If Brown loses the election, he has said he intends to "keep going" as Labour leader. "I owe it to people to continue and complete the work that we've started of taking this country out of the global, financial recession," he told BBC radio in March.
Any Labour MP planning to topple him would do well not to underestimate his powers of resilience and the force of that clunking fist.