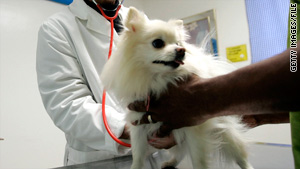 Veterinary medicine can be a high-stress industry, a researcher says.
STORY HIGHLIGHTS
Group appears to be four times as likely to commit suicide as general public
High stress, ready access to lethal drugs may be among factors
Researcher says every country that has done research has found high risk
Some veterinarians say rewards of job can counter struggles
(CNN) -- A researcher published an article Thursday that attempts to explain why veterinarians in Britain appear to be four times as likely as the general public to commit suicide.
"There's no doubt that the suicide rate among veterinarians is elevated relative to the general population," said Dr. David Bartram, a Ph.D. student in mental health at the School of Medicine, University of Southampton.
"What isn't certain is why."
The numbers are startling, with the rate "far and away the highest suicide rate of any other occupational group," Bartram said. In absolute terms, that means five or six of Britain's 16,000 veterinarians kill themselves in any given year, he said.
In his paper, Bartram identifies a number of potential causes for the rate, which is also twice that of other health care professionals. Together, they paint a picture of high stress.
• The stress begins while they're still in training. Typically, entrance to veterinary schools is limited to high achievers, whose personality traits may include neurosis, conscientiousness and perfectionism, all risk factors for suicidal behaviors.
• Their working environment can be stressful, marked by long hours, high psychological demands, low levels of support from managers and high expectations from clients. Many work in solo practices, which can leave them professionally and socially isolated and therefore more vulnerable to depression and suicide.
• Ready access to lethal means and knowledge of how to apply them can also put them at risk. Veterinary clinics typically store lethal drugs, such as barbiturates, on premises. Thoughts of suicide, which are often impulsive, can be acted on immediately. At least half of the male veterinarians who committed suicide between 1982 and 1996 in England and Wales used barbiturates, the report said, with deliberate poisoning accounting for 80 to 90 percent of veterinarians' suicides.
• Veterinarians may consider euthanasia to be a way of alleviating suffering and may therefore come to look upon it as a positive solution to their own difficulties.
• "Suicide contagion" caused by direct or indirect exposure to suicides among colleagues may leave veterinarians more vulnerable to killing themselves.
Though the findings, published in the journal "Veterinary Record," have been presented in scientific literature, the author said his is the first to combine them into one paper.
Though little research into suicide risk among veterinarians has been carried out in the United States, every country that has published occupational suicide rates has found that those of veterinarians were elevated, he said.
But the bottom line is that his hypothesis to explain the elevated suicide risk is no more than an educated guess, he said.
Bartram called for more research to investigate the risk factors and to help the industry's leaders formulate appropriate interventions to cut risk.
"It does seem quite remarkable that there has been such a dearth of research in the field," he said.
He suggested that the government fund research into the matter, adding that any findings would probably be applicable to other occupational groups that have high rates of suicide.
Bartram, a veterinarian himself, said he was motivated to do the work because he suffered from severe depression unrelated to his work, from which he recovered seven years ago.
The report came as a surprise to Sang Han, a veterinarian at a clinic in San Juan Capistrano, California, who has been practicing for 15 years.
"I love my job," he said. "Most of the veterinarians I know of around this town seem to enjoy their work. It's kind of fun to work with four-legged creatures."
But Susan Sundburg acknowledged that the job has had its stresses in the 23 years she had cared for animals.
"Animal lives are a lot shorter than human lives," she said from the Empire Veterinary Clinic in Modesto, California, where she is the lone full-time veterinarian. "We go very often go from birth to death with our patients, and we do get attached to our patients, so I think there's some emotional stress there."
But the rewards of the job -- bringing puppies into the world, performing life-saving surgeries -- can balance that, Sundburg said. "I guess a lot of it depends on how you deal with stress."
And veterinarians face stresses that physicians may not, she said, routinely having to weigh not only the health of their patients but the ability or willingness of their patients' owners to pay and to care for the animal at home. Decisions can be tough to make, she said.
"Sometimes, there's things that kind of sit on the fence," she said. "You kind of don't know where to go."
Sundburg said she has adopted coping mechanisms, taking non-veterinary vacations and reading non-veterinary books like mysteries "to turn off my mind."
The report was welcomed by Ron DeHaven, CEO of the American Veterinary Medical Association, whose 80,000 members represent about 85 percent of the profession.
"It confirms some of the anecdotal information that we've heard," he said. "We will be taking a hard look at this study over the coming months to see what we can do as an association to improve our outreach efforts and other safety nets to help support our members and students when they are faced with difficult times as individuals and professionals."
Marguerite Pappaioanou, executive director of the Association of American Veterinary Colleges, cautioned against concluding that veterinarians in the United States face rates of suicide similar to those seen in Britain.
"There are huge differences between the U.K. and here," she said. She noted that, in recent years, British veterinarians have had to cope with an animal epidemic of foot-and-mouth disease as well as widespread slaughter of cattle to stem the spread of mad cow disease.
Still, the report surprised her. "We have been hearing these things, but no one's pulled the data all together in one place" before, she said. "This data's very compelling. ... It does take it beyond the anecdotal. It's a heads-up."
She said she would share the study with the association's member schools and their administrators.
"There's enough in this article to say, 'Whoa, we ought to be ... trying to do what we can to prevent suicide.' "