Hoon dropped from NATO panel after scandal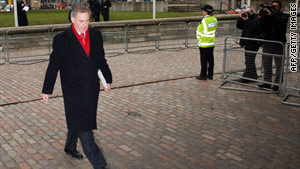 Former Defense Secretary Geoff Hoon was secretly taped expressing interest in using his contacts to make money.
STORY HIGHLIGHTS
NATO drops former British Defense Secretary from policy panel
Britain's Labour Party suspended four senior MPs this week in cash-for-lobbying scandal
Lawmakers were secretly filmed offering to sell their government influence
Politicians agreed to lobby government in exchange for thousands of pounds
London, England (CNN) -- NATO has dropped former British Defense Secretary Geoff Hoon from a panel of policy experts after his involvement in a cash-for-lobbying scandal, a NATO spokesman said Thursday.
Hoon and other members of the British Parliament were secretly filmed in a TV documentary offering to sell their government influence. The documentary, which aired Monday, prompted the Labour Party to suspend Hoon and three other members shown in the program and launch an investigation.
Hoon, who was defense secretary during the invasion of Iraq in 2003, was filmed offering to work for thousands of pounds (dollars) a day in an advisory role for a ficticious company set up by the documentary makers. He offered to lead delegations to see certain ministers or to write letters to ministers to persuade them to see a client.
"One of the challenges, I think, which I'm really looking forward to is sort of translating my knowledge and contacts about (the) international scene into something that, bluntly, makes money," Hoon said in the documentary.
NATO Secretary-General Anders Fogh Rasmussen decided to drop Hoon from the group of 12 experts not because of Hoon's appearance in the documentary, but because of the fallout, a spokesman said.
"He has served there with distinction, but it is clear that the UK government no longer supports Mr. Hoon's participation," spokesman James Appathurai told CNN.
It was the British government that nominated Hoon to serve on the panel, which advises NATO on its new "Strategic Concept." The panel's chair is former U.S. Secretary of State Madeleine Albright.
Hoon could not immediately be reached for comment.