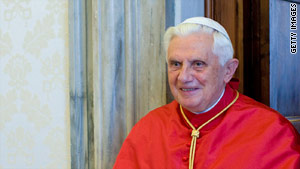 Pope Benedict XVI is now dealing with allegations of sexual abuse by priests on two continents.
STORY HIGHLIGHTS
Allegations of sexual abuse by priests now in half a dozen countries

Crisis could erode membership in Europe's remaining Catholic strongholds

Experts say crisis will have less impact in Asia and Africa, where Catholicism is growing
(CNN) -- As the Vatican announced Friday that Pope Benedict XVI has signed a pastoral letter about Ireland's abusive priests, it became increasingly clear that the church abuse crisis has entered a new international phase, with allegations spreading across a half dozen countries -- including the pope's native Germany.
"Now we have obvious confirmation that this is a global crisis," said John Allen, CNN's Vatican analyst and senior correspondent for the National Catholic Reporter. "Anywhere there is a substantial Catholic population there is the potential for this type of scandal."
Allegations of church-based sex abuse are increasing across Europe, including in Austria, Germany, the Netherlands, Spain and Switzerland. New abuse allegations have surfaced in Brazil, home of the world's largest Catholic population.
Ireland continues to wrestle with the fallout from years of revelations about abusive priests. It wasn't until this week that Ireland's top Catholic cardinal acknowledged the church's response to the abuse had been "hopelessly inadequate."
The pope's letter on Ireland's church scandal will be released Saturday, a Vatican spokesman said. "My hope is that it will help in the process of repentance, healing and renewal," Benedict said earlier in the week.
But new revelations about church abuse continued Friday, including in the Munich, Germany, archdiocese where Benedict once served as archbishop.
While few Vatican watchers expect Benedict to step down over the growing crisis, the German charges are bringing the scandal closer to this pope than to any of his predecessors. "The scandals threaten his reputation in terms of how he governs the church," said Allen. "But there's also a threat to his personal reputation and moral authority."
Under the pope's tenure as archbishop in the early 1980s, the Munich archdiocese ignored warnings to keep a molesting priest away from children, the doctor who issued those warnings said Friday.

Video: Irish Catholics divided

Video: Bishops speak on sex scandal

Video: Doctor: I said to stop priest

Video: Irish priest faces extradition
Werner Huth, a psychoanalyst, said he specifically demanded the priest never be allowed to interact with children again. Instead, Huth said, the church allowed the priest to return to work and to deal with children.
The priest, the Rev. Peter Hullermann, was convicted of abusing minors in 1986. The current pope left the Munich archdiocese for a new post in 1982.
Huth, who said he regularly did psychoanalytical evaluations for the Catholic church, said he does not believe Pope Benedict XVI was ever aware that Hullermann had been returned to service. Huth said he warned other church officials about Hullermann's pedophilia many times.
Hullermann, who resumed work in the church and continued to work with children after his conviction, was suspended last week as information about his past came to light.
Though more than 300 cases of alleged abuse have emerged in Germany -- mostly since January -- no others have surfaced that could implicate the pope. "If it's one case, it's embarrassing but survivable," Allen said. "If it becomes five or 10, a pattern emerges and it becomes something more serious."
Those who've watched Catholic abuse scandals unfold elsewhere said there's a high likelihood of more allegations in Germany and other countries where news of scandal recently broke. "It starts with the victims, then the media pick it up, and once the dam is broken, new revelations and victims pour out," said David Gibson, a Vatican expert who has written a biography of Benedict.
"Once victims are emboldened to come forward, it emboldens prosecutors and government officials to undertake investigations they may not have before out of fear of offending the church," he said.
Beyond the Vatican, the crisis threatens to erode membership in Europe's remaining Catholic strongholds and to change secular Europe's posture toward the church from shrugging toleration to outright hostility. But church experts say the crisis is likely to have far less impact in parts of the world where Catholicism is growing fastest, like Africa and Southeast Asia.
In traditionally Catholic Ireland, the pews were already emptying before the sex abuse scandal broke. "But places like southern Germany and Austria and Poland are still very Catholic," said Gibson. The accumulating abuse allegations "will erode church participation there while accelerating the pace of secularization in places like France and England."
In Brazil, where a recent TV report included a video purportedly showing a priest having sex with a 19-year-old altar boy, the Catholic Church is already losing market share to Pentecostal and evangelical churches. Those churches may subtly seize on a handful of abuse allegations as part of their broader appeals to those disillusioned by the Catholic Church's top-down structure.
But in regions like Africa, which has seen its Catholic population grow from 2 million in 1900 to 150 million today, the new allegations are likely to generate relatively little distress. Nigeria is now home to the world's largest Catholic seminary, while Europe and the United States now depend on wider Africa to supply their priests.
CNN's Frederik Pleitgen contributed to this report.