Purported al-Awlaki message calls for jihad against U.S.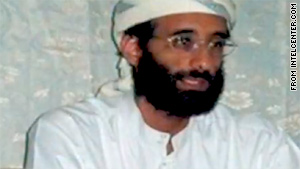 Muslim cleric Anwar al-Awlaki was born in the U.S. and is considered to have a strong influence.
STORY HIGHLIGHTS
Muslim cleric Anwar al-Awlaki was born in U.S.; thought to be hiding in Yemeni hills
CNN has exclusively obtained audio thought to be his; it can't be authenticated
In message, U.S. Muslims are asked to consider where their loyalties reside
U.S. intelligence officials consider Al-Awlaki's influence to be strong
London, England (CNN) -- American-born Muslim cleric Anwar al-Awlaki is calling for jihad against America, claiming "America is evil" in a new audio message obtained by CNN.
"With the American invasion of Iraq and continued U.S. aggression against Muslims, I could not reconcile between living in the U.S. and being a Muslim, and I eventually came to the conclusion that jihad against America is binding upon myself just as it is binding on every other Muslim," he says in the recording that runs more than 12 minutes.
Al-Awlaki is believed to be hiding out in hills of southern Yemen with the protection of his very powerful family tribe.
CNN could not authenticate the recording as being by al-Awlaki, but sources have told CNN that they believe the voice on the recording is him and that the recording is genuine.
Al-Awlaki's voice in the recording is measured and clear, as he takes on the cadence of a preacher. He singles out Muslim Americans for a provocative message:
How can you have your loyalty to a government that is leading the war against Islam and Muslims?
--Anwar al-Awlaki's message to Muslim Americans
"To the Muslims in America, I have this to say: How can your conscience allow you to live in peaceful co-existence with a nation that is responsible for the tyranny and crimes committed against your own brother and sisters? How can you have your loyalty to a government that is leading the war against Islam and Muslims?"
According to U.S. intelligence officials, al-Awlaki's influence and reach -- especially on the Internet with English-speaking Muslims -- is still quite potent.
Just last week, Yemeni authorities subdued a New Jersey man, Sharif Mobley, as he tried to shoot his way out of a local hospital. He had been captured days before in an al Qaeda raid.

Video: Jihad against U.S. 'binding'
Senior U.S. security officials confirmed to CNN that Mobley left his home in New Jersey to seek out al-Awlaki. The officials say that Mobley made contact with al-Awlaki and was eager to meet up with him eventually in the belief that al-Awlaki could become his al Qaeda mentor.
Al-Awlaki's sermons and recordings have been found on the computers of at least a dozen of terror suspects in the U.S. and Britain. In addition, al-Awlaki admits to having communication with U.S. Army Maj. Nidal Hasan, charged in the shooting deaths of 13 people at Fort Hood, Texas, in November.
In the new recording, al-Awlaki encourages the United States to release the correspondence between him and Hasan. He accuses the Obama administration of having something to hide.
"His (Obama's) administration tried to portray the operation of brother Nidal Hasan as an individual act of violence by an individual. The administration practiced the control on the leak of information concerning the operation in order to cushion the reaction of the American public," said al-Awlaki.