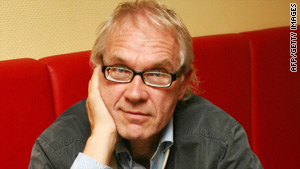 Media reports said the arrests were linked to a plot to kill cartoonist Lars Vilks.
STORY HIGHLIGHTS
Reports suggest Swedish cartoonist was target of assassination plot
Al Qaeda offered $100,000 to anyone who killed Lars Vilks
Four men and three women were arrested by Irish police
(CNN) -- Irish police arrested seven people Tuesday suspected of plotting to commit a murder abroad, they announced.
Irish media reports said the target was Swedish cartoonist Lars Vilks, who drew a cartoon of the Muslim prophet Mohammed with the body of a dog in 2007, prompting al Qaeda to offer $100,000 to anyone who killed him -- plus an extra $50,000 if the killer slits his throat. The Irish press reports cited unnamed police sources.
Irish police did not confirm that Vilks was the target, but responded to a CNN question about Vilks by saying the arrests were "part of an investigation into a conspiracy to commit a serious offense, namely, conspiracy to murder an individual in another jurisdiction."
Four men and three women were arrested by Irish police in Waterford and Cork, authorities said. They range in age from mid-20s to late 40s.
Ireland's national broadcaster RTE said the suspects are originally from Morocco and Yemen, but are all living legally as refugees in Ireland.
Irish police worked with counterparts in the United States and "a number of European countries," they said.
Vilks, the cartoonist reportedly at the center of the plot, told CNN he had drawn the cartoon of Mohammed with a dog's body in order to take a stand.
"It should be possible to insult all religions in a democratic way, " Vilks told CNN at his home in rural Sweden in 2007, after the controversy erupted. "If you insult one, then you should insult the other ones."
Dogs are considered unclean by conservative Muslims, and any depiction of the prophet is strictly forbidden.
Vilks said his drawing was a calculated move, and he wanted it to elicit a reaction.
"That's a way of expressing things. If you don't like it, don't look at it. And if you look at it, don't take it too seriously. No harm done, really," he said.
When it's suggested that might prove an arrogant -- if not insulting -- way to engage Muslims, he is unrelenting, even defiant.
"No one actually loves the truth, but someone has to say it," he says.
Vilks, a self-described atheist, points out he's an equal opportunity offender who in the past sketched a depiction of Jesus as a pedophile.
His cartoon came on the heels of Muslim outrage about cartoons originally published in Denmark in 2005. The republication of the cartoons several months later sparked violent protests in the Muslim world and prompted death threats against at least one cartoonist's life.
Vilks' cartoon, which was published in August 2007 by the Swedish newspaper Nerikes Allehanda, did not provoke that level of global protests, although it has stoked plenty of outrage.
Muslims in Sweden demanded an apology from the newspaper, which stood by Vilks. Pakistan and Iran also lodged formal protests with Sweden.
CNN International Security Correspondent Paula Newton contributed to this report.