Sinn Fein: N. Ireland deal hammered out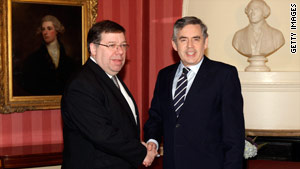 Irish Prime Minister Brian Cowen, left, met British PM Gordon Brown in an attempt to reach agreement.
STORY HIGHLIGHTS
NEW: Party lawmakers could meet at end of week to consider deal, source says
Standoff between political parties in Northern Ireland has been resolved, Sinn Fein says
N. Ireland power-sharing government had been on brink of collapse
Republican Sinn Fein, unionist DUP were at odds over policing, justice system
London, England (CNN) -- A bitter political standoff between the two largest political parties in Northern Ireland has been resolved, one of the parties, Sinn Fein, said.
"There is the basis for a deal," Niall O Donnghaile, a Sinn Fein representative, told CNN Thursday after 10 days of talks that pulled in British Prime Minister Gordon Brown and Irish Prime Minister Brian Cowen.
He did not describe the terms of the deal.
The pro-Irish Sinn Fein and the pro-British Democratic Unionist Party have been at loggerheads over devolution of police powers in the province, which is part of the United Kingdom.
The DUP did not immediately confirm that a deal had been reached despite repeated calls from CNN.
A DUP elected official said the party's leaders were calling lawmakers individually to bring them around to the compromise before putting it to a vote.
Party lawmakers could meet at the end of the week to consider the deal, and the party's executive committee may have to vote on it as well, the source said.
The Northern Ireland Office -- the British government ministry overseeing the province -- had no immediate comment on the Sinn Fein statement.
Brown and Cowen spent nearly two days locked in emergency talks with the DUP and Sinn Fein last week, trying to prevent the collapse of the current Northern Ireland Assembly, which would force new elections.
Because the power-sharing deal set up by the Good Friday agreement in 1998 is fragile, there are fears that new elections could imperil the peace process.
Months of disagreement between the DUP and Sinn Fein over the transfer of policing and justice reached a head at the end of January, when talks between the parties broke down.
Cowen flew to London to discuss the situation with Brown, and then both prime ministers flew to Belfast January 25 for an unscheduled day of talks with all sides -- talks which lasted nearly 48 hours.
Sinn Fein had threatened to walk out of Northern Ireland's power-sharing government if no agreement was reached soon. That would force the Northern Ireland secretary to call new elections for the Assembly, Northern Ireland's legislature, and could further delay any agreement on Northern Ireland assuming policing and justice authority.
CNN's Nic Robertson contributed to this report.