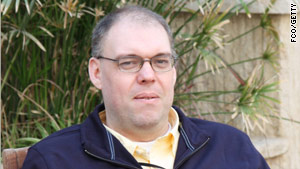 Peter Moore, pictured on December 31 in Iraq following his release.
STORY HIGHLIGHTS
Peter Moore: Asks for time and space to reunite with his family after ordeal
Moore was one of five Britons seized in May 2007 from Iraqi finance ministry
Three men guarding Moore were killed, fourth is believed to be dead
Iraqi govt. spokesman: Moore's release "part of the national reconciliation program"
London, England (CNN) -- Former British hostage Peter Moore, freed last week after two-and-a-half years in Iraq, asked Sunday for "space and time" to catch up with family.
Moore, a computer expert held by Shiite Muslim insurgents in Iraq since May 2007, was freed Wednesday in good health, British Foreign Secretary David Miliband said. Moore returned to Britain on Friday.
"I am obviously delighted to have returned to the UK and to have been reunited with my family," he said in Sunday in a written statement.
"I am looking forward to spending the coming days and weeks catching up on all the things I've missed over the past two-and-a-half years. I would therefore be grateful if we could be given the space and time we need to start to get to know one another again."
A little known-group calling itself The Islamic Shiite Resistance of Iraq claimed to have been behind Moore's kidnapping. Iraqi government spokesman Ali al-Dabbagh said government officials were not involved in the talks that led to Moore's release, but added that the decision to free him "is part of the national reconciliation program" aimed at persuading Iraq's remaining armed factions to lay down their arms.
Al-Dabbagh said the goal is to persuade those factions still taking up arms against the U.S.-backed Iraqi government to "give up all violence and to be part of the political process through the normal rule of law here in Iraq."

Video: Hostage released after 2 years

Video: Freed hostage back home
Moore, who worked for U.S.-based consulting firm BearingPoint, was kidnapped amid the sectarian warfare and insurgent attacks that ravaged Iraq in the years following the U.S. invasion in 2003.
He was one of five Britons seized in May 2007 from the Iraqi finance ministry by people posing as security forces and government workers on official business. The other four men were guards working for the Canadian security firm GardaWorld.
The bodies of security guards Jason Creswell and Jason Swindlehurst were handed over in June 2007, while Alec MacLachlan's body was returned in September 2009. Miliband said the fourth guard, Alan McMenemy, is thought dead.
Moore's kidnappers released at least three videos allegedly showing the hostages.
In December 2007, the Arabic language TV station Al-Arabiya showed a video of a man who identified himself as Jason. The hostage-takers demanded in the video that all British troops be withdrawn from Iraq within 10 days or they would "kill the hostage... as an initial warning."
In February 2008, a video showed Moore pleading with the British government to agree to a prisoner swap.
"It's a simple exchange -- release those that they want so we can go home," he said. "It's as simple as that. It is a simple exchange of people. This is all they want, just have their people released."
The British Embassy in Iraq received a third video in March, but it has not disclosed its contents.
The United States has been awaiting the release of almost a dozen of its citizens listed as missing in Iraq, some for as many as six years, U.S. State Department spokesman Darby Holladay said in an e-mail to CNN.
Though the U.S. government has called for their release and information on their status, Holladay said, the government's policy is to not make concessions to terrorists or hostage-takers, including concessions such as prisoner release or ransom.