Pakistan defies U.S. court in lawsuit over Mumbai attacks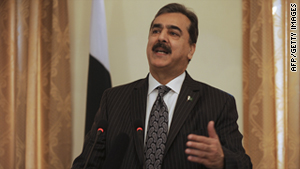 Pakistani Prime Minister Yousuf Raza Gilani.
STORY HIGHLIGHTS
Pakistan will "strongly contest" lawsuit against intelligence agency, prime minister says
Federal court in New York issues summonses to four senior intelligence officials
Family of slain rabbi and wife allege the intelligence service aided terrorists
More than 160 people were killed in the 2008 attacks in Mumbai, India
(CNN) -- Pakistan will "strongly contest" a U.S. court's attempt to subpoena the country's top intelligence officials in connection with a lawsuit over U.S. casualties in the 2008 Mumbai terror attacks, the Pakistani prime minister said Thursday.
"The government of Pakistan has taken a firm decision to strongly contest the suit filed against the ISI," Prime Minister Yousuf Raza Gilani said at a media briefing, referring to Pakistan's Inter-Services Intelligence agency.
He further emphasized that the Pakistani government would fight on behalf of the officers and defend them in legal suits in the United States.
A federal court in New York had issued summonses to four senior ISI officials, including its current director, Ahmed Shuja Pasha, and former director Nadeem Taj. The officials were served in response to a wrongful death lawsuit filed against the ISI and the terrorist organization Lashkar-e-Tayabba by the families of four Americans killed, and one who was injured, during the terror attacks in Mumbai, India, in November 2008.
The 26-page lawsuit accuses the ISI of aiding and abetting Lashkar-e-Tayaba in the killings of more than 160 people. The lawsuit was filed on November 19.
Rabbi Gavriel Noach Holtzberg and his pregnant wife, Rivka, were among those killed in the attacks. Holtzberg's relatives allege that the ISI aided the militant group.
The lawsuit accuses the intelligence agency of providing "critical planning, material support, control and coordination for the attacks."
Holtzberg's family members are seeking monetary damages, but they did not specify an amount.
James Kriendler, the family's attorney, told CNN he has "not received much reaction from the defendants, but a lawyer hired by the government of Pakistan who claims to be representing the ISI has contacted me and I plan on contacting him on Monday when I return to work."
FOLLOW THIS TOPIC