China says anti-pornography campaign shut down 60,000 websites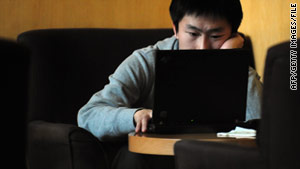 Almost 5,000 people were prosecuted for disseminating pornography, China's state news agency said.
STORY HIGHLIGHTS
The campaign launched last year led to more than 2,000 criminal cases
A Chinese official says the goal is to clean up the internet
China has 450 million internet users, the government says
(CNN) -- China's anti-pornography campaign shut down more than 60,000 pornographic websites this year, with police investigating almost 2,200 criminal cases, the state-run Xinhua news agency reported Thursday.
Wang Chen, director of the Information Office of the State Council, said at a news conference that some 350 million pieces of pornographic and indecent internet content were eliminated, according to the Xinhua report.
The government launched a special campaign a year ago to rid the internet of pornographic and vulgar content, Xinhua reported.
Overall, the campaign included 2,197 criminal cases involving 4,965 people who violated Chinese law by disseminating pornography via the internet or mobile phones, the news agency said. Of those, 58 people received prison sentences exceeding five years, the report said.

Is China reading your e-mail?
Wang said the campaign had helped clean up the internet and would continue.
Xinhua reported that Wang's office has received more than 170,000 tip-offs this year, mostly about online or cellphone-based pornography, with 534 people getting rewards totaling 544,000 yuan (U.S. $81,964) for providing information.
Wang also said that 450 million people in China used the internet, a 20 percent increase over the previous year, according to Xinhua. That means that almost 34 percent of the Chinese population uses the internet, compared to a world average of 30 percent, Wang said at the news conference.
CNN's Eve Bower contributed to this story.