Blast in Philippine chapel injures 10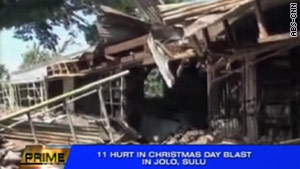 Damage at a church in Jolo in the Philippines after an IED detonated during Christmas Day Mass.
STORY HIGHLIGHTS
Explosion goes off during Christmas Day Mass
Police say an improvised explosive device tore off the roof
Manila, Philippines (CNN) -- A blast at a Christmas Day Mass injured at least 10 people in southern Philippines, including the priest officiating the service, authorities said.
An improvised explosive device tore off the right side of the chapel's roof, police said.
"The injuries were minor, but what really baffled us was how an explosive device managed to sneak past the security of the village and the chapel," said Gen. Ben Latag of the Autonomous Region of Muslim Mindanao.
The chapel is in a police camp in Jolo. It has tight security, and Marines have been previously sent to guard it following fears of militant attacks during Christmas celebrations that started December 16.
Latag said authorities are looking into the possibility that the device might have been planted on a structure close to the perimeter fence of the low-rise chapel.
"We condemn this act of violence and will redouble efforts to pursue the perpetrators," he said.
FOLLOW THIS TOPIC