Aftershocks still rattle New Zealand 3 months after 7.0 quake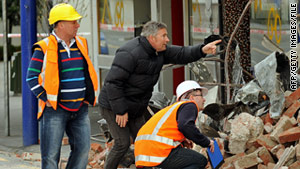 Structural inspectors survey an earthquake-damaged building in Christchurch, New Zealand, on September 5.
STORY HIGHLIGHTS
Malls packed with people for Boxing Day are evacuated
No injuries are reported
The aftershocks stem from a magnitude 7.0 earthquake on September 4
(CNN) -- A series of aftershocks hit near Christchurch, New Zealand, on Sunday morning, leaving cracks in buildings and sending stocked items falling off shelves in stores and malls.
The aftershocks stemmed from a magnitude 7.0 earthquake on September 4.
The biggest aftershock -- a magnitude 4.9 quake -- occurred about three miles from the city and was just over seven miles deep, according to CNNRadio affiliate Radio Live in Christchurch.
"I spoke to one shopper who was actually standing right beside a building where a massive crack appeared. They could hear it, and the people inside actually heard it as well and rushed out straight away," said Lewis Hampton, a radio journalist with Radio Live.
Lewis said there was only superficial damage at some of the malls, but the experience was still frightening.
"You could hear sirens and alarms going off everywhere, emergency services rushing all over the place," he said. "There was chaos at the malls. A whole heap of stock was knocked off to the floors. People were screaming."
Many of the malls were evacuated. Shopping centers were packed with people for Boxing Day, a big day for after-Christmas shoppers in New Zealand.
"The shaking probably only lasted for 15 seconds, but it was a very violent shake," said Hampton, whose computer screen tumbled from his desk.
No injuries were reported from the aftershocks.
FOLLOW THIS TOPIC