N.Korea to allow return of U.N. inspectors after talks with Richardson
STORY HIGHLIGHTS
South Korea says it is too early to assess the North's decision
Former U.S. ambassador to the United Nations Bill Richardson visited North Korea
North Korea agrees to consider a military commission including the Koreas and the United States
Pyongyang, North Korea (CNN) -- North Korea has agreed to a series of actions, including the return of U.N. inspectors, following discussions with Bill Richardson, former U.S. ambassador to the United Nations, Richardson said Monday.
The North agreed to allow International Atomic Energy Agency (IAEA) personnel to return to its uranium enrichment facility, Richardson -- currently governor of New Mexico -- said in a statement. The statement did not say when the monitors would return.
In addition, Pyongyang agreed to negotiate a deal for a third party, such as South Korea, to buy fresh-fuel rods. CNN's Wolf Blitzer, who traveled with Richardson, said North Korea agreed to negotiate the sale of 12,000 rods and ship them to an outside country, presumably South Korea. The rods would be enough to make about six to eight nuclear weapons.
And North Korea agreed to discuss the formation of a military commission consisting of representatives from North and South Korea as well as the United States "to monitor and prevent conflicts in the disputed areas of the West Sea," Richardson's statement said. There also was talk of creating a hotline between the North and South Korean militaries "to avert potential crises."
In response, South Korea said it was too early to make a general assessment of the North's decision without additional information.

Seoul 'hot line' possible

Gov. Richardson's North Korea mission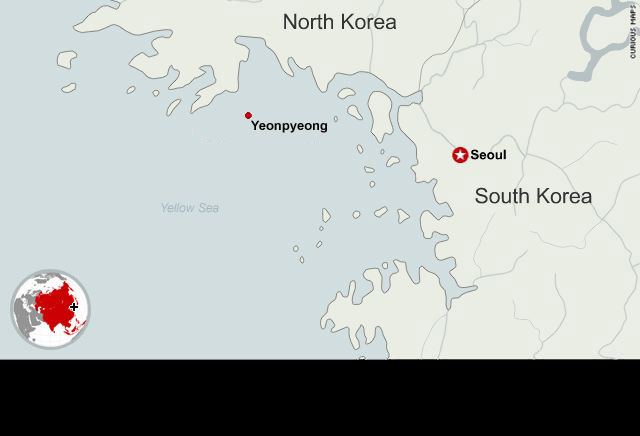 Map: N. Korea shells S. Korean island
"We need to assess overall the scope of inspection and the motivation behind North Korea agreeing to let IAEA inspectors back in," South Korean Foreign Ministry spokesman Kim Young-sun told reporters Monday.
Washington is concerned about North Korea's efforts to develop its nuclear program. The United States, along with North Korea, South Korea, Russia, Japan and China, have been involved in what are called the six-party talks.
But those talks have been slow, arduous and in limbo since 2008. And after the recent revelation of the North Korean uranium enrichment facility, the resumption of talks seemed in jeopardy.
Richardson on Monday ends his five-day unofficial trip to North Korea, during which he met with high-level officials.
In the meetings, Richardson said he urged North Korea to not take aggressive steps in response to South Korea's live-artillery military drill Monday. North Korea's state-run Korean Central News Agency said on Monday that armed forces "did not feel any need to retaliate against every despicable military provocation," but issued warnings to South Korea and the United States.
Richardson said he was encouraged by Pyongyang's restraint. "I hope this will signal a new chapter and a round of dialogue to lessen tension on the Korean peninsula," he said in his statement.
CNN's Kyung Lah and Jiyeon Lee in Seoul, South Korea, contributed to this report.

Part of complete coverage on
The border between North and South Korea is one of the world's geo-political hotspots

CNN crew are the first western journalists to visit the island attacked by North Korea

The coastline of the Yellow Sea is an stage for conflict between North and South

One of the world's most hi-tech cities still exists under the shadow the Cold War.

It's one of the world's most secretive nations -- why does N. Korea have so little contact?


Most popular stories right now