Coalition service member killed in eastern Afghanistan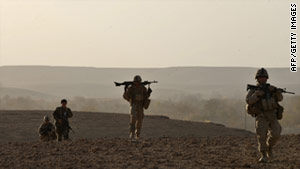 US Marines f walk during a patrol in Helmand province, Afghanistan, on December 17.
STORY HIGHLIGHTS
Three other service members died Friday
On Thursday, a report was released about U.S. strategy in Afghanistan and Pakistan
Adm. Mike Mullen, chairman of the U.S. Joint Chiefs of Staff, said the report shows "we are on the right track"
Kabul, Afghanistan (CNN) -- A coalition service member died after an insurgent attack in eastern Afghanistan Saturday, NATO's International Security Assistance Force said.
Three coalition service members died on Friday in Afghanistan, ISAF said in a statement.
One was killed in the east after an insurgent attack and the other in the south after a roadside bomb explosion. A third died as a result of a non-battle related injury in the north.
With this latest attack Saturday, the number of coalition deaths has risen to 698 so far in 2010, according to CNN's records.
On Thursday, the United States released a review report of operations in Afghanistan and Pakistan.
At a press conference in Kabul Friday, Adm. Mike Mullen, chairman of the U.S. Joint Chiefs of Staff, said the review "shows us that we are on the right track," but more progress needs to be made, particularly in the area of government and the rule of law.
"I remain convinced that we have the right strategy, we have the right leadership and we now have the right resources in place to disrupt, dismantle and defeat al Qaeda, to reverse the momentum of the Taliban and to prevent Afghanistan from becoming a safe haven," Mullen said.
CNN's Katy Byron contributed to this report.