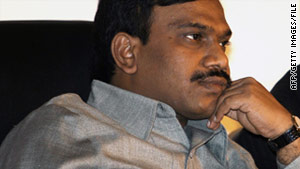 Premises belonging to relatives of former telecommunications minister A. Raja were among those raided.
STORY HIGHLIGHTS
Phone recordings reveal communications between a lobbyist, journalists and telecommunications officials
Hundreds of Central Bureau of Investigation agents are involved in the raids
The scandal has created a logjam in parliament along party lines
New Delhi, India (CNN) -- India's Central Bureau of Investigation staged a series of raids at the homes and offices of people at the center of a national telecommunications scandal, a CBI official said.
Early Wednesday, more than 100 CBI officials searched the premises of prominent lobbyist Niira Radia, former telecommunications regulatory chief Pradeep Baijal, and relatives of former telecommunications minister A. Raja.
"There are 34 searches going on today, seven in Delhi and 27 in Tamil Nadu," CBI spokeswoman Vinita Thakur said.
These raids come after recordings of phone conversations between a prominent lobbyist, top journalists, top industrialists and politicians were leaked in late November.
The "2G scam," as it is known in India, involves Raja underselling mobile phone licenses in the world's fastest growing mobile phone market.
The leaked audio tapes, which were recorded in 2009, reveal Radia asking journalists Barkha Dutt of NDTV and Vir Sanghvi of the Hindustan Times, to mediate with the ruling Congress party about cabinet posts.
The tapes suggest Radia was lobbying for Raja to continue in the post as telecommunications minister after the 2009 elections, and both journalists agreed to help.
Indian auditors say this cost the country some $40 billion in lost revenues as the mobile phone licenses were sold at prices set in 2001 under Raja's watch.
Raja was forced to resign last month, but the scandal has snarled parliament for the past three weeks as recriminations fly across party lines. It has inflamed business and political tensions in the country and gripped the media and the public as it has ensnared top government officials, some of the nation's wealthiest tycoons and Dutt, who is known as the "Oprah of India." The story has dominated the headlines for weeks.
While allegations of corruption are commonplace in India, revelations that some of the country's most prominent journalists were involved have shocked the public. The raids are seen by some as an indication that the government is serious about solving the problem.
While both Dutt and Sanghvi, advisory editorial director of the Hindustan Times and a widely-read columnist, have not denied the authenticity of the recordings, they both maintain they were simply placating a source for newsgathering purposes and believe they have done no wrong.
"Unless we only cover news based on bland press conference, we have to talk to all sorts, good and bad," Dutt said in a Twitter post. "I think there is nothing wrong in stringing along a source for info ... I think EVERY journo has the right to engage a source, it's NO CRIME ... as a matter of record, I never passed the message. But info sharing per se is not immoral in a fluid news situation."
India's opposition party has announced it will hold a nation-wide rally against corruption on December 22.
Radia's public relations firm represents two of the country's wealthiest businessmen, Ratan Tata and Mukesh Ambani.
These raids come just a week after Raja's homes in Delhi and Tamil Nadu were searched.
FOLLOW THIS TOPIC