South Korean army chief resigns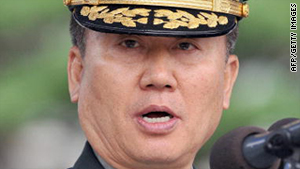 Hwang Eui-don speaks at a change of command ceremony at a U.S. army base in Seoul on September 21, 2009.
STORY HIGHLIGHTS
Army chief had been accused of profiting from insider information
The army chief was named to the position in June
This comes weeks after defense minister resigned
(CNN) -- The South Korean presidential office accepted the resignation of the chief of the Army Tuesday, the Yonhap news agency reported.
Army Chief of Staff Gen. Hwang Eui-don had received criticism about a property investment before submitting his letter of resignation, Yonhap reported.
Hwang was named to the position in June and was quickly accused of using insider information to make money off of a property investment, Yonhap reported.
This resignation comes weeks after the country's defense minister resigned.
Kim Tae-young, a former general, came under heavy criticism after the March sinking of the South Korean war ship Cheonan and again after North Korea struck Yeonpyeong Island in November.
Kim resigned in late November and was replaced.
FOLLOW THIS TOPIC