STORY HIGHLIGHTS
"Nothing is stopping him from coming home to Australia"
Julian Assange has the same rights as every citizen, AG says
WikiLeaks says it has more than 350 mirror sites
Sydney, Australia (CNN) -- WikiLeaks founder Julian Assange would be allowed to return to his Australian homeland, and has the same protections any other Australian citizen would, the nation's attorney general said Monday.
Attorney General Robert McClelland's comments came in response to Assange's assertion last week that McClelland and Australian Prime Minister Julia Gillard "have made it clear that not only is my return impossible, but that they are actively working to assist the United States government in its attacks on myself and our people.
"This brings into question what does it mean to be an Australian citizen -- does that mean anything at all?" Assange said Friday in written answers to readers' questions posted on the website of the British newspaper The Guardian.
"Mr. Assange, like every Australian citizen, has rights, and nothing is stopping him from coming home to Australia," McClelland said, according to his spokesman. Assange "is entitled to the same rights as any other Australian citizen. This includes the right to return to Australia and also to receive consular assistance while he is overseas if that is requested."
However, McClelland also said WikiLeaks' publishing of leaked documents is "irresponsible," according to the spokesman.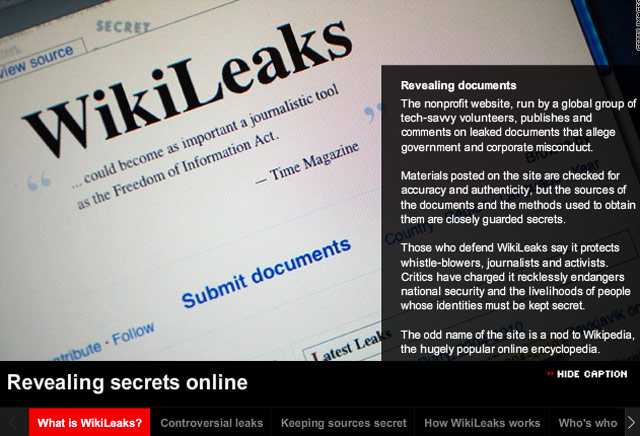 What is WikiLeaks? Here's how it works

Karzai, Gilani downplay WikiLeaks

WikiLeaks: Espionage or freedom?

WikiLeaks: China's N. Korea stance
WikiLeaks, which facilitates the anonymous leaking of secret information, began posting the first of what it says are more than 250,000 U.S. State Department documents last week. Since then, the site has been hit with denial-of-service attacks, been kicked off servers in the United States and France, and lost a major revenue source on Friday when U.S.-based PayPal cut off its account.
Assange, 39, is wanted by Swedish authorities on unrelated allegations of sex crimes, including rape. He has denied the allegations, but his whereabouts have been undisclosed since WikiLeaks began publishing the documents last week. Investigators have focused much of their effort on finding Assange in Britain, where U.S. investigative activity is being conducted by the Defense Department, a senior law enforcement official said Friday.
Despite Assange's denial of the sex allegations, "Australian citizens may be required to respond to allegations of breaching the laws of another country and they are entitled to due process in doing so," McClelland said. He said the arrest warrant against Assange "is a matter for Swedish law enforcement authorities."
On Sunday, WikiLeaks appealed to supporters worldwide to mirror its website, saying the site "is under heavy attack. In order to make it impossible to ever fully remove WikiLeaks from the Internet, we need your help."
In a tweet sent on the microblogging site Twitter Sunday night, WikiLeaks said it had 355 mirror sites, but a link in the tweet listed 208 mirror sites.
Supporters rallied Sunday by offering their sites or posting links to other mirrors.
"All the censoring of WikiLeaks is more alarming than the actual content of the leaks," one supporter wrote in a widely distributed comment. "It only further justifies WL's actions."
CNN's Aliza Kassim contributed to this report.
FOLLOW THIS TOPIC