Thai police: Suspects part of transnational crime ring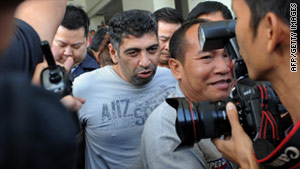 Pakistani national Muhammad Athar Butt (center) is escorted by Thai policemen in Bangkok on December 2.
STORY HIGHLIGHTS
Two Pakistani men and a Thai woman are arrested in Thailand
Seven other alleged Islamist extremists are arrested in Spain
They allegedly forged passports used by terror networks
Bangkok, Thailand (CNN) -- Three suspects arrested in Thailand on alleged terror ties have confessed to making counterfeit passports and other documents, the Thai news agency reported Thursday.
The two Pakistani men and a Thai woman were part of a transnational crime syndicate that included Spain, the news agency said.
Authorities said the three allegedly set up a base in Thailand, which they used to forge passports, the news agency said. Their partners in Spain stole tourist passports and shipped them to Thailand, where they were forged, according to the news agency.
In addition to the three, seven other alleged Islamist extremists were arrested in Spain on Wednesday, the Spanish national police said.
Six suspects were from Pakistan and one from Nigeria, police said. Investigators said the three arrested in Thailand are accused of directing the operation in Spain.
They allegedly provided stolen travel documents to terrorist groups, the national police said.
Police say the suspects are linked to terror groups. Their fake passports were also used in other crimes, including human trafficking, arms trade and illegal immigration, authorities told the news agency.
According to police, the cell was dedicated to stealing travel documents, mostly passports, and sending them to Thailand, where they would be falsified and turned over to groups with links to al Qaeda, such as Lashkar-e-Taiba, a militant group based in Pakistan.
The documents also ended up in the hands of the Tamil Tigers, a rebel force in Sri Lanka, police said.
Since the March 11, 2004, commuter train bombings in Madrid that killed 190 and wounded 1,800, Spanish police and international police forces have kept a close eye on suspected Islamic radicals living in or transiting through the country. There have been numerous previous arrests for alleged support work, like these arrests, involving forged documents.
FOLLOW THIS TOPIC