Pakistan court: Christian convicted of blasphemy must wait for pardon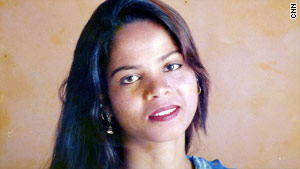 Asia Bibi has been sentenced to death for alleged blasphemy in Pakistan.
STORY HIGHLIGHTS
NEW: Official says president must wait until case is done to legally pardon
Asia Bibi has appealed her conviction and death sentence
Last week, minister for foreign affairs declared Bibi innocent
Islamabad, Pakistan (CNN) -- A court in Pakistan on Monday blocked the government from pardoning a Christian woman sentenced to death for blasphemy until her case has been heard by an appeals court, a senior government law officer said.
Chauhdary Hanif Khatana, deputy advocate general of Punjab province, said the Lahore High Court has ruled that because Asia Bibi's death sentence is not final and subject to confirmation by a higher court, the president must wait to legally use his powers to pardon.
Bibi's defense lawyer, Khan Chauhdary, said that he has filed an appeal against the death sentence but that the appeal would take two or three years to be heard.
There have been calls for a presidential pardon, and last week Pakistan's minister for foreign affairs concluded a three-day investigation into the case, saying Bibi is innocent and should be released.
"This case was filed on the basis of religious and personal enmity," Minister Shahbaz Bhatti said.
A spokesman and spokeswoman for Pakistani President Asif Ali Zardari, however, said Wednesday that the president would pardon Bibi if necessary and only after the legal process has taken its course.
Zardari did ask Bhatti to propose names for a committee of scholars and experts who would recommend reforms "to effectively prevent the misuse of the blasphemy law for personal and political reasons."
Bibi was convicted of defiling the name of the Prophet Mohammed during an argument last year with Muslim fellow field workers.
FOLLOW THIS TOPIC