STORY HIGHLIGHTS
Prime Minister: "To lose this many brothers at once strikes an agonizing blow"
All 29 miners trapped after an explosion are dead
The prime minister says he had hoped for a miracle
(CNN) -- All 29 miners trapped underground following an explosion last week in a New Zealand mine are dead, the official in charge of the rescue attempt said Wednesday.
"There was another massive explosion underground, and based on that explosion, no one survived," Gary Knowles, superintendent of Tasman Police Command, told reporters. "We're now going to recovery mode."
Knowles said he was at the mine when the second explosion occurred on Wednesday afternoon.
"The blast was horrific -- just as severe as the first blast," he said. Knowles said he did not know and would not speculate on the cause of the blast.
During a news conference Wednesday, New Zealand Prime Minister John Key said like many in his country, he had hoped for a miracle.
"This is a national tragedy," Key said, "a tragedy for the men's families, for their work mates and friends, for their community and our nation.
"New Zealand is a small country -- a country where we are our brother's keeper. So to lose this many brothers at once strikes an agonizing blow."

New Zealand mourns miners' deaths

New Zealand miners declared dead

Trapped miners dead in New Zealand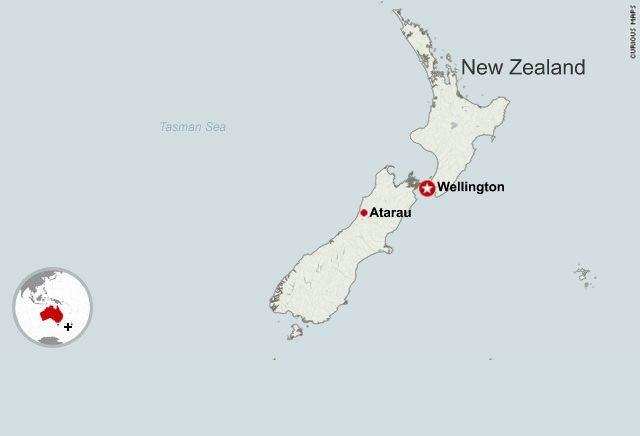 Map: New Zealand coal mine
Key extended condolences to the families of the miners.
"To all those who lost their loved one in the Pike River mine, let me say this: New Zealand stands shoulder to shoulder with you. Though we cannot possibly feel this pain as you do, we have you in our hearts and our thoughts."
Queen Elizabeth sent a message to New Zealand's prime minister Wednesday.
"I am deeply saddened by today's news that there is now no hope for the men trapped in the Pike River mine," the queen said, according to a statement from Buckingham Palace. "My heart goes out to the families and friends of these 29 brave miners and to all who have been touched by this national disaster. I send my thanks and deep appreciation to everyone who has worked so hard to attempt a rescue and also to those who will have a part to play in the task of healing the pain that is being felt throughout New Zealand and around the world."
During the rescue attempt, air released from drilling into the mine contained high levels of carbon monoxide and methane but little oxygen, according to police officials.
The CEO of Pike River Coal, Peter Whittall, told reporters Wednesday he did not know where either of the blasts occurred in the mine, but said "the mine would have been filling up with gas. It would have already had gas in it."
When asked about the possibility of survival, Whittall said, "I'm advised that on the strength of this, and the evidence of it, it's extremely unlikely."
Whittall said "we want our boys back, and we want to get them out."
"I still want them back. And their families want them back. And we'll be doing everything we can to make that happen," he said. But he added, "We can't still go back into an unsafe mine ... the gas will still be coming out of the coal."
The 29 men, ages 17 to 62, had been missing since Friday, when an explosion ripped through the Greymouth-area mine. Most of the miners were from New Zealand, but the group also included Scots and South Africans.
Authorities said the two camera-bearing military robots sent into the mine had found a worker's helmet with its light still on, but no sign of life. The helmet, police said, was dropped by one of the two miners who escaped the original explosion.
One of the units reached a "fresh air base" and found nobody there, he said.
The missing men were believed to have been spread throughout the mine, with perhaps half trapped in one area.
Whittall and Knowles had reiterated that potentially explosive gases in the collapsed mine had rendered a rescue attempt unsafe.
"It's just too dangerous. You can't put the lives of the guys going underground at risk," Whittall said.
Late Tuesday, officials showed family members and reporters a closed-circuit television video of the mine's entrance during Friday's blast. The minute-long video shows dust flying and a white screen flapping back and forth before it is blown out of the tunnel.
The video "showed that the blast was quite large and went on for a long time," Whittall said.
He said that the "sobering" video showed a site at least 2.5 kilometers (1.6 miles) away from the blast. Officials decided to play it for family members and reporters to illustrate "how dangerous it would be to re-enter the mine," he said.
The prime minister said he expects a series of inquiries into the tragedy.
"Questions must now be asked and answered about how such a tragedy was able to occur and how we can prevent another happening in the future," Key said.
FOLLOW THIS TOPIC