STORY HIGHLIGHTS
Locals from Yeonpyeong island arrive on mainland after north Korean airstrike

Ko Young Hae, 86, was helped onto a boat

The island and the surrounding waters are hotly contested by North and South Korea

With the attack on South Korean soil the stakes have been raised
Incheon, South Korea (CNN) -- On a bitterly cold night at Incheon port, the old and frail emerge into the light. They have been ferried here to safety, many still in shock after being caught in the crossfire as North and South Korea traded fire on the island of Yeonpyeong.
Ko Young Hae, 86, has spent her whole life on the island. Surrounded by media, she tells of how she was all alone and someone helped her to a boat.
"I am OK," she says. "I'm alive and I have survived."
Others hug each other. One young man says he heard a loud bang, then he rushed to safety at a nearby school.
Cameras captured much of the attack. They show shells raining down and buildings on fire. Smoke was visible billowing into the sky.
North Korea maintains it was responding to South Korean aggression. The south, which had been carrying out military exercises in the area, did respond to the attack with artillery fire and fighter jets, defense officials said.

The Koreas clash

View of North Korea nuke site

South Koreans react to crisis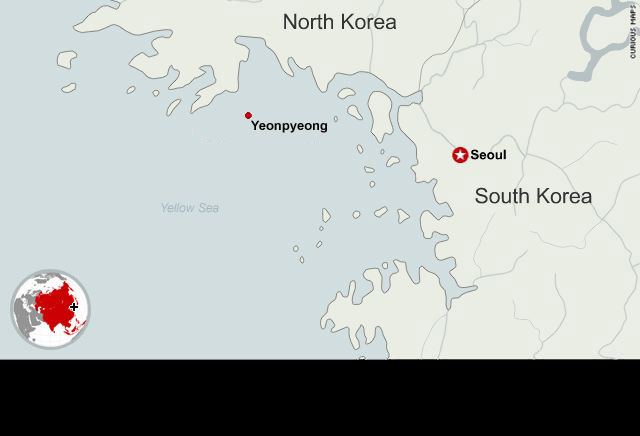 Map: N. Korea shells S. Korean island
The island and the surrounding waters are hotly contested. North Korea doesn't accept the dividing line, claiming the island as their territory.
It is now ratcheting up the rhetoric, calling the south "puppets" that are carrying out "war exercises." The north threatens a merciless military confrontation.
South Korean President Lee Myung Bak called an emergency meeting in an underground bunker.
He too is warning of dire consequences if Pyongyang continues its aggression.
"The navy, army and air force must unite in severe retaliation" he says.
There have been flashpoints before. In March, a South Korean, the Cheonan, was sunk and 46 sailors died in a suspected North Korean torpedo attack.
But this has raised the stakes. South Korean soil has been attacked and civilians have been targeted.
The United States has tens of thousands of troops in South Korea. Stephen Bosworth, the U.S. special envoy on North Korean denuclearization, has held crucial discussions in Beijing.
China, North Korea's main ally, is crucial to bringing stability to the region and getting Pyongyang back to the negotiating table.
North Korea though is unpredictable. Leader Kim Jong Il is unwell and apparently planning a transition of power to his son.
Just last week North Korea revealed to U.S. scientist Siegfried Hecker that it is enriching uranium.
Hecker said the facility he was shown appeared to be designed for nuclear power production but that the facility could be converted to military purposes.
An already volatile region is now at a knife edge.
FOLLOW THIS TOPIC