Japan justice minister quits over controversial comments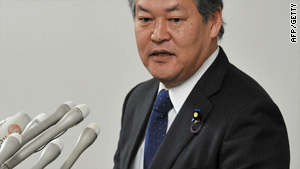 Japanese Justice Minister Minoru Yanagida announces his resignation in Tokyo on November 22, 2010.
STORY HIGHLIGHTS
Minoru Yanagida makes light of the justice minister's job, saying it is easy
He says he need remember only two stock phrases when stuck for an answer in parliament
His remarks create problems for the administration, which is trying to pass an extra budget
Yanagida apologizes again on Monday, saying he inadvertently lowered his guard
Tokyo, Japan (CNN) -- Japan's justice minister resigned on Monday, amid controversy about remarks he made -- comments that were seen as making light of his job.
"My indiscreet remarks caused controversy and affected many areas," Justice Minister Minoru Yanagida said at a news conference.
"They have also created trouble [for the government of Prime Minister Naoto Kan] in passing an extra budget," he added. "I've decided to step down, so budget-making processes can go smoothly."
Yanagida made his controversial remarks last week, saying, "The justice minister's job is easy, because he only needs to remember two phrases, when stuck for an answer in parliament. He needs only to say, 'I refrain from making comments on individual issues' and 'We are dealing with the matter appropriately based on laws and evidence.'"
The comments, which he made to supporters among his constituency in Hiroshima, spread and created a furor. He later withdrew his comments and apologized, to no avail.
"The prime minister told me, for the public good, the government needs to have an extra budget for fiscal 2010 pass [parliament] as soon as possible, " Yanagida said at Monday's news conference.
He said the prime minister had accepted his resignation.
Yanagida's departure comes two months after Kan reshuffled his Cabinet. Yanagida's resignation is the first since.
Kan on Monday chose Chief Cabinet Secretary Yoshito Sengoku to temporarily replace Yanagida.
At the news conference, Yanagida apologized again for his controversial remarks.
"I had not returned to my constituency for two months since I took office as a minister. It seems a long time for me, to be honest. That made me lower my guard to the local supporters. It was truly my mistake and I apologize."
FOLLOW THIS TOPIC